NRA Civil Rights Defense Fund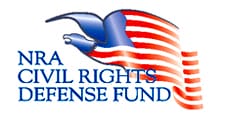 FAIRFAX, VIRGINIA –-(AmmoLand.com)- Designate CFC #10006 to support the NRA Civil Rights Defense Fund, founded to defend the fundamental right of law-abiding citizens to keep and bear arms.
The NRA Civil Rights Defense Fund has assisted in court cases involving hunting, range protection, self-defense, and onerous gun laws as in the Heller v. District of Columbia case that affirmed our individual right to keep and bear arms.
The NRA Foundation Designate CFC #11872 to support The NRA Foundation, Inc., founded to foster a culture of safe firearms use and ownership.
The NRA Foundation supports programs that include:
The Eddie Eagle Gunsafe Program works with schools, police departments, and other organizations nationwide to teach kids to avoid gun accidents.
NRA Youth Programs are administered jointly with Boy and Girl Scouts, 4-H, and other civic and community organizations to give young hunters and shooters the best gun safety, conservation, and hunter ethics training available.
NRA's Disabled Shooting Services develops equipment, provides technical support, and improves facility access to offer disabled persons greater access to recreation opportunities through hunting and the shooting sports.
CFC is a method of workplace giving for federal government employees. Not a government employee? You may still be eligible to give through your employer – contact us to find out!
For more information please call (888) 467-2363 or visit our websites: www.nrafoundation.org • www.nradefensefund.org
About:
Established in 1871, the National Rifle Association is America's oldest civil rights and sportsmen's group. Four million members strong, NRA continues its mission to uphold Second Amendment rights and to advocate enforcement of existing laws against violent offenders to reduce crime. The Association remains the nation's leader in firearm education and training for law-abiding gun owners, law enforcement and the military.