Henderson Wins Military Marksmanship Association Soldier of the Year Award
By Michael Molinaro
USAMU PAO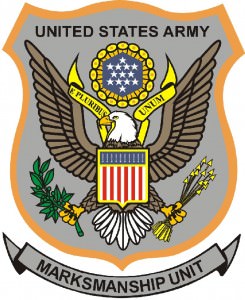 FORT BENNING, Ga. —-(AmmoLand.com)- Sgt. 1st Class James Henderson, a service pistol shooter with the U.S. Army Marksmanship Unit, was selected as the Military Marksmanship Association Soldier of the Year for 2009.
MMA president Col. (Ret.) Robert I. Hoidahl, Jr. made the announcement at the MMA Annual Membership Meeting January 29 at the Pool International Shooting Complex. Hoidahl presented the Soldier of the Year Award to Henderson – a .45- caliber pistol donated by the Smith and Wesson Corporation.
A Pasadena, Calif. native, Henderson became the first Soldier in 24 years to win the National Pistol Championship in 2009 at Camp Perry, OH. He won the National Trophy Pistol championship, the President's Pistol match, and the Interservice Service Pistol championship.
He was a member of the first-place National Trophy Pistol Team, the first-place Interservice Service Pistol team, broke numerous national pistol shooting records and claimed countless other individual and team accolades in 2009. He was featured in Sports Illustrated's "Faces in the Crowd" section and got promoted over the course of the year—a very good year indeed.
"This is a great honor," Henderson said. "I have to thank the guys in the (custom firearms) shop. They help make this all possible. I have to thank my wife for all of her love and support.

"I couldn't have done it without the support of my team. They push me every day and if I mess up I know one of them will win the match. Being on this team and in this unit is the best job in the Army."
Henderson first served with the USAMU from 1991-1994 after tours at Fort Benning, Fort Sill and Korea. After a long stint in the Army Reserves, Henderson signed back up for active duty service and was assigned to the USAMU.
Henderson has been awarded two Army Commendation Medals, five Army Achievement Medals, five Good Conduct Medals, Army Superior Unit Award, Distinguished Pistol Badge, President's Hundred Tab, and Accessions Support Brigade Noncommissioned Officer of the Quarter, Fourth Quarter, Fiscal Year 2007.
As it is for most years, Hoidahl said that it was extremely hard picking a winner among the finalists for the award. The MMA 2009 Soldier of the Year nominees were: Sgt. Daniel Horner from the Action Shooting team; Service Rifle shooter Spc. Sherri Gallagher; Sgt. 1st Class Daryl Szarenski from the International Pistol team; Sgt. Michael McPhail from the International Rifle team, Shotgun team member Sgt. Vincent Hancock; and from the Custom Firearms Shop, Spc. James Travillion.