Rock Island Auction Company Presents an April Premiere Firearms Auction
April 30 & May 1 & 2 with Over 2700 Lots..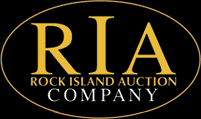 Moline, IL –-(AmmoLand.com)- Rock Island Auction Company announces the next Premiere Firearms Auction to be held at their facilities in Moline, IL. The huge success of our previous sales proves that people are investing in what they know: firearms are solid investments that hold value through economic downturns.
Investing and collecting opportunities abound at Rock Island's fantastic Premiere Firearms Auction April 30 & May 1 & 2.  At a time when the stock market changes daily, gun collectors are seeing the worth of their investments.
Hard assets are the place to invest your money and gun values continue to rise. This auction has firearms for every level of collecting and investing from Colts to Winchesters and the hundreds of high quality sporting arms. Rock Island's continued sell through rate of over 97% proves that items that come to RIAC are for sale and now is your chance to make a solid investment.
Featuring the C.W. Slagle Firearms Estate Collection and to include Derringers, Palm Pistols, Powder Flasks and other Curio Type Firearms.
Over 600 Derringers and Curio Type Weapons
Over 400 Winchesters, outstanding lever actions from 1866 – 1895 plus excellent Model 21's & sporting rifles including Model 70's
Over 650 Colts, excellent Colt percussions, outstanding single actions and magnificent engraved 1878/77's double action revolvers
Over 600 Military Arms from U.S., Europe and Japan
Over 500 Sporting Arms including fine shotguns, rifles and pistols
Outstanding Civil War firearms
A large collection of Swords including presentation swords
Smith & Wessons from antique to modern
MOST OF THIS AUCTION IS UNRESERVED!  Bid live on or place absentee bids via our website, email, phone or fax.  The entire full color catalog will be online 4-5 weeks prior to the auction WWW.ROCKISLANDAUCTION.COM.  To order your full-color two volume set catalog ($60 inc. S&H) call 800-238-8022.
RIAC 2010 AUCTION RESULTS
Premiere: Sept.10, 11 & 12 & December 3, 4 & 5
Regional: June 26 & 27
We are seeking consignments for our upcoming auctions We are able to take in consignments during the auctions. if you plan on attending an have items you would like to consign save yourself a trip!
RIAC AUCTION RESULTS…
February sale is RIAC's Finest Regional Auction to date!
Over 2.5 Million in Sales!
99.9% sell through rate!
Breaking RIAC Record in attendance with standing room only throughout all of Saturday!
Prices realized online www.rockislandauction.com
RIAC ON THE ROAD…
Wanenmacher's Tulsa Arms Show
April 10 – 11
Quiktrip Center – Expo Square (Tulsa Fairgrounds) Tulsa, OK
World's Largest Selection of antique, collector and modern firearms, knives and accessories. More than 4,100 Tables! RIAC will be on the first floor, Row 17 LC Tables 2,3 & 4 and 14,15 & 16
TAKING IN CONSIGNMENTS for our upcoming auctions. Bring in your firearm(s) to the show, we can transport all firearms to our facility saving you a trip.
We will also be displaying several lots to be sold in our April 30 & May 1 & 2 Premiere Auction.