Hotshot Johnny Tuscadero's Second Straight Win Using Puma Westerner Revolvers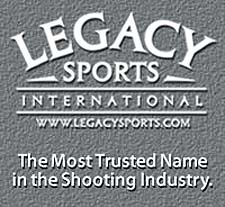 Reno, NV –-(AmmoLand.com)- Legacy Sports International, LLC once again congratulates Hotshot Johnny Tuscadero for his second trick gun handling win using PUMA Westerner single action sixguns!
In December of 2009 Hotshot Johnny dueled to a tie with Pistol Packin' Paula to claim a co-win for the Gun Handling Championship at the 1st Annual SASS/WWPAS World Championships in Las Vegas, Nevada.
Now, Johnny does it again! In a showdown of trick and fancy gun play between World Champion Gunslingers Pistol Packin' Paula and Hotshot Johnny held during Wild West Days at Old Tucson Studios on the last weekend of March, Johnny walked away with first prize.
As Hotshot Johnny put it "Once again my Puma Westerners from Legacy Sports International did not let me down as I wow'd the crowd with gun spinning, fast draw and trick shooting against an able and talented performer who apparently just chose the wrong guns." That's 2 competitions and 2 wins!
Hotshot Johnny has this to say about his PUMA® Westerners:
"I perform literally thousands of shows a year, all over the world. Trick exhibition shooting, fancy twirling and lots of fast draw demonstrations. Live shows and rough handling, all hard on a weapon. My guns work more than most and under adverse conditions much of the time.

I have used almost every other SAA clone on the market in the past 20 years. I need a pistol that is authentic, decorative and above all, tough. I finally found it in the Puma Westerner. It has put up with everything I've thrown at it and the factory action job is as good or better than the $200 jobs I've had done on past pistols I've used. Smooth as butter and reliable. Locks every time, even when I power thru a fast draw demo.

You folks at Legacy Sports have offered an authentic SAA that is made better than the original. I won't use anything else because when the crowds cheering, I need reliability. Thanks." – Hotshot Johnny Tuscadero
Legacy Sports International, LLC is an importer of firearms and shooting accessories. Bringing in high quality, reliable and affordable products for shooting and hunting enthusiasts is the mission of Legacy Sports' business. With well-respected brands including Howa and Puma rifles, NikkoStirling optics, Citadel semi-auto pistols and LE shotguns, and Escort and Verona shotguns, Legacy Sports is committed to offer today's shooting sports enthusiast performance on the range and in the field. Legacy's track record proves – without a doubt – that they have consistently provided accurate rifles and shotguns as well as award-winning optics for sportsmen on a budget. This is why Legacy Sports is known as "The Most Trusted Name in the Shooting Industry".
For more information contact: www.legacysports.com