Anti Gun "Disclose Act" Fight Moves to the Senate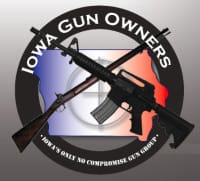 Iowa –-(AmmoLand.com)- The vote on the so called "Disclose Act" was held on Thursday as we reported to you last week.
Speaker of the House Nancy Pelosi, with her substantial majority, was able to force this bill through the House of Representatives.
However, what was supposed to be an easy victory with minimal resistance turned into an all out battle and "Disclose" passed by a slim margin of just 219 to 206.
Thanks to you, and thousands of gun rights activists across the country, you made this a tough fight for those anti-gun Democrats in the House.
Your calls and emails into Washington made a huge impact!
Iowa's Congressional delegation was split on this issue.
Congressmen King and Latham voted against this bill.
Congressmen Loebsack, Braley, and Boswell voted in favor of this bill.
In case you missed the alert we sent out last week, the so called "Disclose Act" is being used by liberal power brokers in Washington to eliminate our ability to communicate with you regarding the political votes cast by your state and federal politicians during the months prior to an election!
Of course this is the most important time for grassroots activists like you and me to be communicating, right before it's time to cast your vote.
It's every anti-gun politician's dream to be able to vote against your gun rights and then prevent No Comprise groups like Iowa Gun Owners from reminding you how they voted at election time.
And believe me, there are many anti-gunners in Des Moines who would love to silence Iowa Gun Owners so that no one can stand in their path as they continually attempt to regulate, restrict, and further erode your 2nd Amendment rights.
The fight now moves to the Senate – where we stand a fair chance of stopping "Disclose" if we act quickly!
The liberal anti-free speech and anti-gunners don't have as big of a majority in that chamber, but they do have the majority so you need to get involved.
Contact Senator Grassley at 202-224-3744 and let him know what you think of this bill. He has indicated to Iowa Gun Owners that he will vote no on this bill. (More on that below.) But he needs to be reminded that Iowans find this bill repulsive so that he's not tempted to change his mind.
In addition, call Senator Tom Harkin at 202-224-3254 and strongly urge him to vote no on the so called "Disclose Act" as well.
As we told you last week, this bill was dead in the water until the NRA made a deal with anti-gun politicians like Nancy Pelosi and Harry Reid that allowed a special exception for them.
We are not going to take your time to repeat what we said in the last alert but just want to remind you that this bill was dead until the NRA cut a deal to make them exempt.
So feel free to call the NRA at 800-672-3888 and tell them to knock it off. Tell them to denounce the so called "Disclose Act" for what it is, an attack on both our First and Second Amendment rights.
Many of you have called us reporting that the NRA says that they are opposing "Disclose." We don't understand why they are saying that as it simply isn't true. Conservative organizations all over the country are scratching their heads trying to understand why the NRA would do this. So call them again and demand that they publicly oppose "Disclose."
Need more confirmation? Read next to hear what US Senator Charles Grassley told Iowa Gun Owners at the state convention last Saturday about Disclose and the NRA.
As many of you know Saturday was the date of the GOP convention in Des Moines. Nearly every Republican figure you can think of was in Des Moines to attend the event.

Representatives from Iowa Gun Owners were also on hand talking to candidates and incumbents about REAL Right-to-Carry and Iowa's unconstitutional permit-to-purchase requirements and other issues concerning our 2nd Amendment freedoms.

Senator Charles Grassley was present as well and one Iowa Gun Owners representative asked him how he intends to vote on the so called "Disclose Act."

To his credit, Senator Grassley said that he plans to vote NO on "Disclose."
We were pleased to hear this.
But more, Senator Grassley came back to us and urged us to contact the NRA and find out why they are supporting Disclose by default!
That's correct, even Senator Grassley is acknowledging that the NRA could do much to stop this First Amendment attack on our Second Amendment rights. Their refusal to act needs to be confronted.
So make sure to contact the NRA today and tell them to officially oppose the so called "Disclose Act."
Contact Us You can contact us in the following ways: Email:
[email protected]
Phone: 515/309-7858 Mail: P.O. Box 3585, Des Moines, IA 50323 Website: www.IowaGunOwners.org
About:
Iowa Gun Owners (IGO) was formed in January of 2009 to combat the oppressive gun laws in the State of Iowa. IGO does not believe that you, as a law abiding citizen, should have to beg permission from the government to be able to defend yourself and your family. That's why we are working so hard to get a Vermont/Alaska style carry law passed in Iowa. In these states, unless you are a convicted felon or otherwise barred from possessing weapons, you don't need a permit to carry a gun for self-defense! Join us now! Visit: www.iowagunowners.org