NSSF Sponsors 2010 Steel Challenge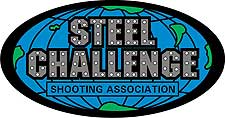 SEDRO-WOOLLEY, Wash. –-(Ammoland.com)- The Steel Challenge Shooting Association (SCSA) announced that as part of the organization's ongoing commitment to promote the shooting sports in the United States, the National Shooting Sports Foundation (NSSF), trade association for the firearms industry, has signed on as a platinum sponsor of the 2010 Steel Challenge World Speed Shooting Championships, taking place August 19 through 21 in Piru, Calif.
"NSSF is one of the most important partners the shooting sports side of the industry has. They have either led or helped guide many of the major recreational shooting initiatives, and their generous support of matches like the Steel Challenge has helped to raise public awareness of competitive shooting. We are extremely pleased to once again call them 'partner'," said Scott Moore, Steel Challenge sponsor relations.
Chris Dolnack, senior vice president of NSSF, said, "The Steel Challenge showcases the skill and excitement of handgun competition for men, women and youth. NSSF is proud to support such an important event in the shooting sports."
Since the first Steel Challenge in 1981, the World Speed Shooting Championships have grown into the premier exhibition of speed shooting in the world and routinely draws the fastest shooters from around the globe. This year's match will take place August 19-21 in Piru, Calif.
To learn more about the Steel Challenge and the sport of Speed Shooting, visit SteelChallenge.com.