Twin Olympic Biathletes Lanny And Tracy Barnes Join The Women's Outdoor Media Association
By Tracy Barnes
Olympic biathletes Lanny and Tracy Barnes recently joined the Women's Outdoor Media Association. Through their blog at their website, www.twinbiathletes.com, the sisters take us on their journey as they train for their next Olympics in Russia 2014. The women will contribute their tips on training, their road trip stories and adventures, along with insights along the way to our readers. We welcome them and look forward to reading about their lifestyles. ~ Editors WOMA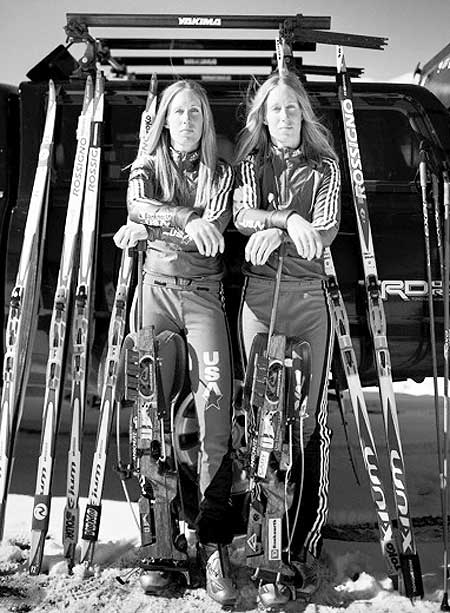 Conyers, Ga –-(Ammoland.com)- My sister, Lanny Barnes, and I began shooting and hunting at a very young age.
We started out with little bows and suction-cup arrows and then graduated to a small compound bow. We would set up cans and bottles and practice for hours. Later we started shooting a pellet gun and our dad would give us a quarter for every time we hit a bull's-eye.
When Dad started running out of quarters, he signed us up at the local shooting club where we learned .22-position shooting and competed in New Mexico and Colorado State prone competitions. At one of the competitions, we met a guy by the name of Tim Conrad who was working with the biathlon team with their shooting. He saw us juggling a soccer ball and running around between bouts of shooting and suggested we might try the sport of biathlon, seeing as though we were a bit too hyperactive for prone shooting.
Biathlon sounded like our kind sport – with a combination of fasted paced, head-to head shooting and aggressive, heart-pounding skiing. The only thing we needed to learn was how to cross country ski. We grew up downhill skiing, but the only thing we knew of going uphill on skis was to get on the chair lift and ride it to the top. So we signed up for Nordic skiing and after a year, we were hooked. As far as we know, we are literately the only biathletes who came into the sport with a shooting background and then learned how to ski. Most biathletes are skiers first who learn to shoot.
Now, 11 years later we have competed in two Olympics and hold countless national titles. This past winter, Lanny had the best Olympic finish by an American woman in 16 years. Our goal now is to compete in the Olympics in four years and to make history competing in them. The average age of an Olympic medalist in the sport of biathlon in the past two years is 32; we will be 31 when we compete again. We believe we can make history by becoming the first women to medal at an Olympics in biathlon for the U.S.
Having just come off an Olympics in Vancouver this year, we get asked by many people how we will prepare for the next Olympics. First of all, the Olympics will be held in Sochi, Russia, in 2014.
Does it seem like a long four years away? More like a short span to get in the best shape of our lives so that we are shooting and skiing with the best in the world.
What does that take? Lots and lots of training and thousands of rounds of ammunition. Training for the Olympics is an everyday, lifetime commitment. We didn't just start training for the 2014 Olympics this spring; we started years ago when we began to compete for biathlon on a competitive level. Every year an athlete trains for an endurance sport, she builds a base that makes her stronger. It's like putting money in the bank for later and the Barnes' twins hope to make a huge withdrawal in 2014.
We attribute our family, along with friends, sponsors and fans to our success. You may follow us on our journey not only here at this column, Road to Russia, but also at our website: www.twinbiathletes.com .
About:
WOMA is a new forum geared for people who work or volunteer to communicate with (and about) women in the outdoor fields of shooting sports and/or hunting and fishing traditions. The difference is that the focus of The WOMA is on what women are doing, and what is being done for them, in the outdoor areas of shooting sports, archery, hunting and fishing. Visit: www.TheWOMA.com