Bushmaster's MOE M4-TYPE Carbine is Enhanced with Magpul Original Equipment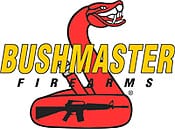 Windham, ME –-(Ammoland.com)- Bushmaster's MOE M4-Type Carbine is an exciting addition to the growing line of Bushmaster AR15 style rifles.
The MOE M4-Type Carbine comes factory enhanced with an array of Magpul aftermarket accessories.
Enhancements include a Magpul MBUS flip-up rear sight, a Magpul adjustable butt sock with a strong A-frame design and a rubber butt pad, a Magpul MOE polymer hand guard and a Magpul pistol grip that will accept Mission Adaptable (MIAD) accessories and the MOE enhanced trigger guard.
The rifle is shipped with one 30 round Magpul PMAG. The Magpul accessories on every MOE M4-Type Carbine are available in either black, flat dark earth or foliage green.
The MOE M4-Type Carbine has a receiver length picatinny optics rail that will allow an optical sight to be mounted to co-witness with the Magpul flip-up rear sight or mounted in a traditional format if the Magpul rear sight is removed.
All Bushmaster MOE M4-Type Carbines are shipped with a lockable hard case, an operator's safety manual, an orange safety block and a black web sling. Bushmaster's one year warranty is included.
| | |
| --- | --- |
| Model | Bushmaster MOE M4-Type Carbine |
| Caliber | .223 / 5.56 MM |
| Capacity | 30 Round MAGPUL P MAG |
| Action | Gas Operated Semi-Auto |
| Stock | MAGPUL MOE Adjustable butt Stock |
| Barrel | 16" |
| Twist Rate | 1 turn in 9 |
| Sights | A.R.M.S. Front & Rear Sights |
| Length | 32.5" |
| Weight | 6.22 lbs. |
| MSRP | $ 1395.00 |
About Bushmaster Firearms
Bushmaster Firearms International, LLC (BFI) is the leading supplier of AR15/M16 type rifles in the United States for Law Enforcement, security and private consumer use. Headquartered in Windham, Maine, with additional facilities in Dallas, Georgia and Lake Havasu, Arizona, BFI supplies aluminum and advanced carbon fiber-based rifle platforms in calibers ranging from 5.56mm/223 to 50BMG. These and associated accessories manufactured by BFI meet the tactical rifle needs of US customers as well as Military, Law Enforcement and Security clients from over 50 countries worldwide. Visit our web site at www.bushmaster.com