Wiley X Saber Advanced Eyewear Delivers Unmatched Levels Of Protection
Industry Leader's Changeable Series Is ANSI Z.87.1-2003 Certified and Meets Combat Eyewear Specifications.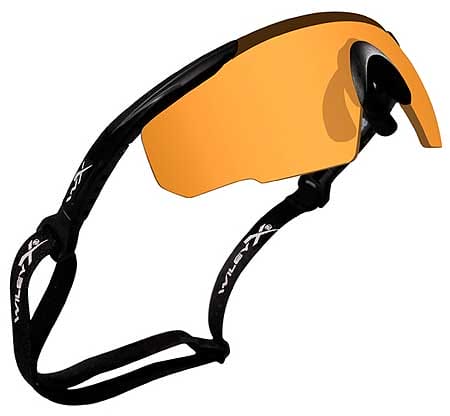 Livermore, CA –-(Ammoland.com)- Industry Leader's Changeable Series Is ANSI Z.87.1-2003 Certified and Meets Combat Eyewear Specifications
Whether you're a shooting sportsman, an outdoor enthusiast or an American worker, you'll need to be ready to adapt to meet a wide range of changing environments.
That's why Wiley X has been developing new ways to constantly evolve and enhance its battlefield proven designs — and for two decades has been trusted by top shooters, US workers and those who protect our freedom worldwide with the best tools possible. Now the newest addition to the company's Changeable Series, the Wiley X Saber Advanced, provides unparalleled protection and visual acuity tailor-made for hunting, shooting sports and safety applications in the factory and in the field.
The veteran owned and operated company recently achieved ISO 9001:2008 certification as part of its commitment to continually advance its own stellar manufacturing processes. And with the Wiley X Saber Advanced, it meets stringent MIL-PRF-31013 military ballistic standards (U.S. Military Combat Eye Protection) as well as ANSI Z87.1-2003 high impact certification (OSHA Occupational Eye Protection) — so it delivers the maximum protection available in any set of eyewear. In fact, with the thickest lens in the industry (3.0 mm), it's also the best value at just $38 MSRP for a single lens set or $45 MSRP with 2 lenses, smoke grey and light rust.
The system comes with a single lens package, with a choice of smoke grey or clear lenses and matte black frame, or a two-lens option with both smoke grey and light rust lenses. The unique design provides wrap-around protection that not only delivers Wiley X's signature ballistic impact resistance, but also provides 100% UVA and UVB protection. Its amazing lenses are also made of shatterproof Selenite scratch-resistant polycarbonate with High Velocity Protection (HVP) to present an unencumbered field of view.
And since the field of view might require ear protection as well, the Wiley X Saber Advanced is ready for action literally and figuratively — with design features that allow quick transitions to comfortably pair with hearing protection earmuffs. For instance, the sturdy temple arms remove quickly, and can be replaced with a snap-in elastic strap to both reduce pressure on the sides of the head and ensure a secure fit during jarring runs or rides. For even more versatility, the Wiley X Saber Advanced has an optional Rx plug-in that will soon be available to seamlessly fit most prescriptions; an Ultra Foam Brow Bar to keep sweat and debris off your face; and a tailored 'take flight' nose piece to adapt to a wide range of nose shapes and sizes — so it stays right in place, too.
To learn more about the new Wiley X Saber Advanced — or the company's full line of high performance eyewear — visit Wiley X Eyewear at 7800 Patterson Pass Road, Livermore, CA 94550 • Telephone: (800) 776-7842 • Or visit online at www.wileyx.com. For updates on Wiley X pro athletes and events, find us on Facebook at www.facebook.com/wileyxeyewear.