High-Fashion PINK Power Revolvers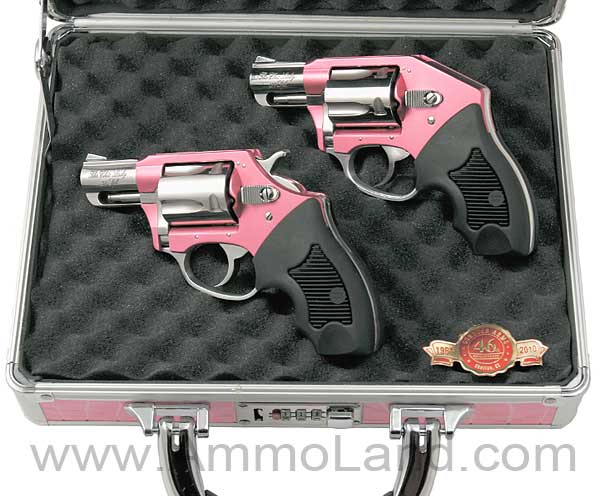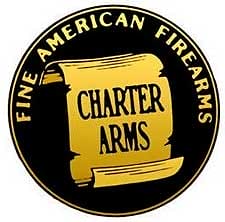 Dayton, Ohio –-(Ammoland.com)- Charter Arms NEW "Chic Lady" revolvers. In the fashion world hot pink is the new black and Charter Arms has made it so in the firearms industry too. The New Charter Arms Chic Lady revolvers make a real statement.
Evolved from Charter Arms' popular Pink Lady series these two revolvers are a feathery-light 13-ounces thanks to a tough anodized pink 7075 aircraft aluminum frame.
The Chic Lady revolvers feature a highly-polished stainless steel cylinder, barrel, hammer, and cylinder release. Additionally, the Chic Ladies are fitted with contemporary design recoil absorbing rubber grips. It all comes together with the flat finished trigger, trigger guard, back strap, polished stainless steel components and black grips, hot pink frame to create a truly stunning looking light-weight easy to carry self defense revolver with plenty of serious .38 special +P power. Can it get better?
Oh yeah! Leave it up to Charter Arms. Each Chic Lady comes in a bright pink faux alligator skin, combination locking aluminum foam lined carry case. Debuted at this time of year this makes the Chic Lady revolvers an incredible gift idea too.
Basic Specifications:
Caliber: .38 Special +P
Weight: 13-ounces
Barrel length: 2-inches
Frame: Anodized 7075 aircraft aluminum
Grips: Contemporary design black rubber
Capacity: Five-rounds
Two Models:
Exposed hammer for single and double action–model number 53839
Enclosed hammer double action only–model number 53852
Price: MSRP $485.00 including the carry case of course.
MKS Supply, Inc. Charter Arms Exclusive Marketer 8611-A North Dixie Drive Dayton, OH, 45414 P (866) 769-4867
[email protected]
www.charterarms.com
About:
Founded in 1964 Charter Arms manufactures a full line of revolvers made by professional, skilled American craftsmen located in the heart of New England's firearm valley in Shelton, CT. Steeped rich in tradition with unmatched customer service, Charter Arms revolvers are consistently associated with personal protection because of their strength, reliability and accuracy. All Charter Arms revolvers are covered with a lifetime warranty. For more information on Charter Arms, please visit www.CharterArms.com or call customer service, (866)-769-4867.