USA Shooting Athlete of the Month – Jamie Beyerle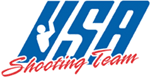 COLORADO SPRINGS, Colo.--(Ammoland.com)- The United States' top shooters are invited to compete in the International Shooting Sport Federation (ISSF) World Cup Final.
Jamie Beyerle, one of America's top rifle athletes, boasts a resume that includes three medals and a quota place in Women's 50m Rifle Three Position and yet another medal in Women's 10m Air Rifle . . . all during 2010.
Beyerle (Lebanon, Pa.) was invited to compete in the 2010 ISSF Rifle and Pistol World Cup Final in both the Women's 10m Air Rifle and Women's 50m Rifle Three Position events. Shooting against some of the best athletes in the world, Beyerle beat all expectations.
In her first day of competition, she entered the final in the lower half of the field with 396 match points. A strong final of 103.2 points left Beyerle tied with Italy's Elani Nardelli for the bronze medal at 499.2 points. In the shoot-off, Beyerle succeeded with a 10.5 point single shot to Nardelli's 9.8 point shot.
The next day, Beyerle once again brought her medal winning ways to the Women's 50m Rifle Three Position event. She finished the qualification round with 590 points, tied with only one other shooter. Beyerle beat the competition as she shot for 100.7 points in the final to win the gold medal with 690.7 total points.
National Rifle Coach Major Dave Johnson said, "She's been shooting great and working towards this success for a long time. It's nice to finally see things coming together. I'm looking forward to see her accomplishing planned goals for the quad in the future."
USA Shooting would like to congratulate Jamie Beyerle, the Athlete of the Month for Nov., and wish her continued success for 2011.
ELEY is a Proud Sponsor of the USA Shooting Rifle and Pistol Teams: ELEY Limited, manufacturer of the world's most consistently accurate rimfire ammunition, has been the Official Sponsor and Official Supplier of .22 rimfire ammunition of the USA Shooting rifle and pistol teams since 2000. For more information on ELEY and their products, please visit www.eley.co.uk.
About USA Shooting:
USA Shooting, a 501c3 non-profit corporation, was chartered by the United States Olympic Committee as the National Governing Body for the sport of shooting in April 1995. USA Shooting's mission is to prepare American athletes to win Olympic medals, promote the shooting sports throughout the U.S. and govern the conduct of international shooting in the country. Check us out on the web at www.usashooting.org and on Twitter at twitter.com/USAShooting.