Washington Bill Attempts to Restrict Knife Length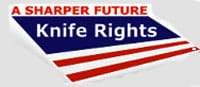 Gilbert, AZ –-(Ammoland.com)- A Washington state representative has introduced a bill amending Washington law to outlaw concealed carry of knives with blades longer than 3 1/2 inches.
While Arizona, New Hampshire and other states are making progress in the personal choices law abiding citizens make regarding the type of knives they carry, Rep. Sherry Appleton (D – LD23) is looking to set her state's knife laws back decades.
Rep. Appleton bill would mean that the average fisherman, fishing one of Washington's many coastal areas or rivers whose jacket falls over their 6-inch filet knife would suddenly be committing a crime. Washington has many hunters and is a popular hunting destination for those who travel to hunt.
The average hunting knife is considerably longer than the arbitrary 3 1/2- inch limit, exposing hunters to committing an unintentional crime as well. But, the most egregious aspect of this proposed law will be to render illegal many simple pocket knives that law-abiding citizens carry everyday for work and recreation.
"Why anyone would go back to this 1950's legislative mentality is beyond me," said Doug Ritter, Chairman of Knife Rights.

"While many states are modernizing or eliminating restrictive laws coving the essential tools millions of Americans carry for everyday chores, we now have a legislator in Washington State who thinks it's a good idea to go backwards."
Read the proposed bill: https://bit.ly/fCACxE
Now is not the time to roll back the clock; now it the time to move forward and enhance our knife rights.
Knife Rights is already hard at work laying the groundwork to fight this ridiculous proposal, but we can't do it without your help.
Please contribute to the Second Front Legislative Campaign so we stop this bill in its tracks: https://bit.ly/foA0QA
About:
Knife Rights has quickly grown to become America's largest grassroots knife owners organization. Invest in a Sharper Future. Become a Knife Rights member and make a contribution to support the fight for your knife rights. Visit www.kniferights.org