Keypad Code Gun Safe vs. Combination Gun Safe
Which is the Better Option to Protect Your Firearms?
By Vern Marker
Manasquan, NJ –-(Ammoland.com)- If you are in the market for a gun safe in order to secure the firearms in your home, you may be wondering about keypad code vs. combination safes and which one is the best choice.
Each type of safe has its pros and cons, and you should take the time to consider both of them before making your decision.
Keypad Code
A keypad code gun safe is a thoroughly modern choice for keeping important papers and items safe. When you receive your safe, you can choose the numbers in the combination yourself, so you don't forget. They also offer extra built-in security protection, as the unit will go into lockdown mode if an incorrect number sequence is entered five times.
Once lockdown mode has been activated, no further attempts to open the safe may be made for at least five minutes. If the correct combination is not entered in the next two attempts, the keypad goes back into lockdown mode again for another five minutes. This feature is meant to guard against the possibility that someone intent on breaking into the safe will simply continue to enter numbers at random until he or she hits on the right one.
The keypad code firearms safe is a great choice for people who need to access the contents of the safe regularly. If you will be using it for business purposes, such as to deposit money taken in during the day until you can take the funds to your bank, the keypad code version is the more convenient way to go.
This style does have its drawbacks, though. The keypad code is a battery-operated unit, and you will need to plan to change the batteries about once every 12 months. You will not be able to access your safe if you enter the combination incorrectly, and it will go into lockdown mode for five minute intervals after a certain number of attempts with an incorrect one.
Another disadvantage with this option is its higher cost compared to a combination gun safe.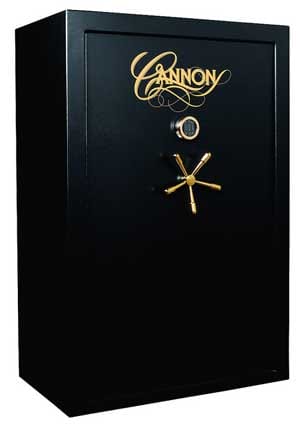 Combination Safe
Combination gun safes have been around for over a century and a half, and for good reason. This type of model is a more economical choice than a keypad code safe. As long as the unit is well maintained, it will provide several years of reliable use.
Another advantage of choosing a combination gun safe is that you can set the combination when you receive it and use it for years without the dial offering any indication of what the numbers are, because there is no visible wear or tear. If your goal is to find a highly-durable unit that is not dependent on a battery, then a combination safe definitely has a lot going for it.
The down side of choosing a combination firearms safe for your needs is that you must call in a locksmith if you ever wanted to change the numbers used to open it, or if you for some reason forget the code and can't get into it. Also, since you have to manually turn the dial to open the safe it is a more time-consuming choice than if you had decided to go with a keypad code model.
If you or anyone who will be operating the safe has trouble with arthritis or other disorders affecting manual dexterity, it could also be challenging to operate it.
Another disadvantage of choosing the combination safe is that it doesn't automatically go into lockdown mode after a certain number of attempts to open it. When compared to the ease of use of a keypad code model, a combination safe can look like an old clunker in comparison.
When searching for protection either type of safe, can and will serve the basic function of securing your valuables. Consider what features you are looking for in a safe, and then use the pros and cons of each unit to determine which will be better for your needs.
Vern Marker is a freelance writer who loves to write on a variety of subjects including firearms, the outdoors and gun safes.