Michigan Coalition For Responsible Gun Owners Remembers Daniel M. Barch
We have lost a patriot, a fighter for our rights, a friend, and a shooter.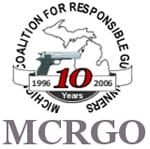 Michigan – -(Ammoland.com)- This afternoon, I was honored to be among those who attended a memorial service for Dan Barch today in East Lansing, including several MCRGO leaders, past and present.
Dan was very active in MCRGO. He was a CPA and handled financial and administrative matters at MCRGO Headquarters for many years. Dan's wife, Joan, was especially gracious and mentioned to those assembled how MCRGO was the major focus of Dan's life in his last few years as he battled cancer. Dan was a tireless defender of firearms rights, a hunter and a competitive target shooter. In fact, his service was the occasion for his rabbi to utter the words "Cowboy Action Shooting" for the first time in her career, which brought a light moment of laughter to grieving family and friends.
On display in the hall afterwards, among pictures and other memoribilia, was the special plaque awarded to Dan by the Board of Directors and presented to him before his death by our Executive Director, Chuck Perricone, and his wife, Audrey, while Dan was in Hospice care. The plaque commemorates many years of faithful service.
During my last visit with Dan in hospice, shortly before he passed away, he was suffering from the effects of brain cancer and the treatments that had been prescribed. He was unable to handle too much information, and his memory was unreliable. But, he wanted to talk about the M1 Garand. I did my best to keep up. He was sharp and focused, and essentially taught me a class right there from his hospital bed. He was, like most of those who read this newsletter, a true shooter and aficianado.
We have lost a patriot, a fighter for our rights, a friend, and a shooter.
Joan, Dan's wife, is planning to make a significant donation in ammunition and firearms to the MCRGO Foundation (www.MCRGOFoundation.org) so that his legacy will be the continuation of his life's work. We will continue to benefit from Dan's friendship and efforts in the future.
– Steve Dulan
About:
The Michigan Coalition for Responsible Gun Owners is a non-profit, non-partisan organization. Formed from just eight people in 1996, we now have thousands of members and numerous affiliated clubs across the state. We're growing larger and more effective every day.
Our mission statement is: "Promoting safe use and ownership of firearms through education, litigation, and legislation" Visit: www.mcrgo.org