Northern Knives Makes Donations to benefit AKTI's Legislative Fund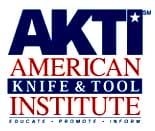 Cody, WY –-(Ammoland.com)- Northern Knives donates Randall Knife for Blade Show Silent Auction, a William Henry E6-5 for an AKTI drawing, and starts an AKTI supporter wristband fundraiser for the American Knife & Tool Institute's Legislative Fund.
Northern Knives www.northernknives.net, an Anchorage, Alaska retail store and Associate member of the American Knife & Tool Institute, has been thinking hard and working even harder to find ways to help the nonprofit advocacy organization increase AKTI's Legislative Fund. Recognizing that making effective and reasonable changes to state laws takes a lot of both time and money, the owners of Northern Knives have made some generous donations to help raise funds for the next legislative efforts AKTI has planned to protect the rights of everyone to be able to buy, sell, make, own carry and use knives and edged tools.
A Randall Made knife, Model 5-4, will be shown at the Blade Show in Atlanta June 10-12, 2011 and available by Silent Auction to the highest bidder. Stop by the AKTI booth #162 and place your bid on this very poplar, but not easy to get, 4-inch blade Randall with a stag handle and brass hilt with black, white and red spaces.
Selling for close to $500 when available, you may have to wait over five years to get one directly from the maker. The actual knife will be on display and the winning bidder can take it home after the Silent Auction closes on Sunday at 1 p.m.
Northern Knives also donated a William Henry Model E6-5 Serial number 065, a beautiful little folder. Anyone who joins, renews, signs up as a Grassroots Supporter, buys a wristband, or just wants to enter to win the knife is eligible. The drawing will be held Sunday at Blade at the AKTI booth #162 at 1 p.m. (Georgia law requires that no purchase is necessary to enter any drawing.)
Grassroots Supporters provide an email address so they can be contacted with information about the AKTI's legislative initiative and calls to action to contact legislators or others when needed. Hearing from voters is very important to legislators and we need numbers to make effective change. Not heading to the Blade Show? Sign up at www.AKTI.org. Even better – make a commitment to ask at least one other knife owner to visit www.AKTI.org and become a free Grassroots Supporter.
Northern Knives is making iy possible to show your support of AKTI's efforts to Keep Knives in American Lives. Available to purchase at Blade Show and on their website www.northernknives.net are black silicone support wristbands. All proceeds will be donated to AKTI by Northern Knives. Owner Ray Thibault noted, "It's an excellent way to support an excellent organization for only $3!"
So visit AKTI at Booth #162 at the Blade Show in Atlanta to learn more about how this organization in working for the entire knife community. Or visit www.AKTI.org today and sign up as a free Grassroots Supporter or join as a member.
Thank you Northern Knives for valuable ideas and action to help Keep Knives in American Lives.
Jan Billeb, Executive Director
American Knife & Tool Institute
(307) 587-8296 Phone/Fax
[email protected]
www.AKTI.org
The American Knife & Tool Institute (AKTI) is a non-profit organization (501(c)6) representing all segments of the knife industry and all knife users. Formed by concerned industry leaders after considerable discussion with individual knifemakers, knife magazine publishers, and a broad section of the knife community, AKTI has been the reasonable and responsible voice of the knife community since 1998. For more about AKTI, please see our website at www.AKTI.org.