Rock Island Auction Inaugural Gun Sale at New Facility is a Huge Success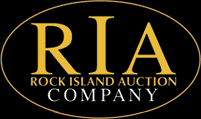 Rock Island, IL--(Ammoland.com)- Historic Premiere Firearms Auction realizes $8 Million!
The inaugural auction of Rock Island Auction Company's new facility brought firearms enthusiasts of every level, from veteran firearms collectors to first time bidders, all of which were impressed by the massive 86,000 sq. ft. state-of-the-art facility.
Every chair (300 now compared to the previous 175) was full as auctioneers Pat Hogan, and his son Kevin took the podium Friday.
Of the endless topics of the pre-auction chatter, the most common subject was the preview hall's abundant lighting and incredible size and scale. Collectors were able to preview items at their own pace with plenty of room to look down a bore or through a scope without bumping into a buddy. With all the additional interest from the new facility and the impressive collection of firearms up for auction, bidders drove up prices on the over 2,700 lots to a total of over $8 Million, bringing the total for the first two auctions of 2011 to over $10 Million!
Of the over 120 Colt Single Action Army revolvers offered, none were more impressive than an exceptional documented U.S. Lewis Draper inspected Colt Model 1873 single action cavalry revolver which sold above the estimate at $69,000. With more than 400 Colts in the sale many genres stood out with impressive sales such as a fully automatic Colt 1921/28 "Navy" overstamp submachine gun with FBI type carrying case, two drum and three stick magazines and a magnificent Colt 50-95 lightning slide action express rifle in exceptional condition with factory letter each selling for $31,625 respectively.
The most exciting lot was a 1938 Colt Model 1911A1 US Army contract pistol with accessories. The lot saw a flurry of bidders battling over this rare grouping which finally sold at $28,750, almost four times the estimated $5,000-$8,000. Colt long arms were also in high demand with a Colt 50-95 Lightning slide action express rifle with factory letter sold for $31,625.
This auction also featured the finest collection of Sharps to come to auction since the Frank and Karen Sellers collection. This outstanding collection was highlighted by a rare and historic, St. Louis inscribed, factory cased, Sharps Model 1851 sporting rifle which brought $40,250. A very rare documented Sharps Model 1874 No. 1 Creedmoor rifle went well above the estimated price of $8,500-$14,000 and sold for $28,750. A magnificent Sharps panel scene Gustave Young engraved Model 1853 sporting rifle left the building with a final sale price of $25,875, and a custom Sharps Model 1874 sporting rifle by Henry Slotterbek of Los Angeles, California realized $10,350.
Rock Island Auction brought to auction an outstanding collection of Lugers in rare and desirable configurations, as well as other German Military arms, Nazi hats, uniforms and militaria. The highlight of the over 250 lugers was an exceptionally rare documented cased gold plated factory engraved carved ivory stocked Krieghoff presentation Luger pistol which reached a final sale price of $69,000. Other top luger lots were a scarce Borchardt semi-automatic pistol with shoulder stock, holster and spare magazine selling for $25,875 and an exceptional DWM Model 1900 U.S. Army test luger pistol with original Rock Island Arsenal holster with a selling price of $23,000.
Other German Military arms attained high prices including a cased WWII German Luftwaffe issue Model 30 survival drilling with case and accessories which sold for $25,875, and an exceptional Mauser Tankgewehr-18 bolt action single shot anti-tank rifle with bipod which sold for an impressive $31,625.
The over 300 U.S. Military arms were highlighted with an impressive sale at $48,875 of a rare Pedersen device with metal case and U.S. Model 1903 Springfield Mark I rifle, a rare late WWII original inland "T3" carbine with M2 infrared sniper scope with accessories sold for $23,000, and a rare U.S. trials Colt Model 1907 Army contract semi-automatic pistol with factory letter sold at $14,950.
Sportsmen found something in this auction from the highest quality and condition to the field grade. Of the over 500 sporting arms in this auction a custom engraved gold inlaid Winchester Model 21 two barrel set 28 and 410 gauge Grand American double barrel shotgun with case took top sales at $31,625. Side by side shotguns were in high demand with bidders driving impressive sales of a rare Parker Brothers Model VHE grade 410 double barrel shotgun with Abercrombie & Fitch marked leather case and a cased Balneari signed master engraved gold inlaid two barrel set Piotti Pachmayr extra double barrel shotgun selling at $25,875 and $19,550 respectfully. Sporting rifles did well across the board with impressive numbers which include an engraved gold inlaid pre-64 Winchester Model 70 Super Grade bolt action rifle with box in rare 7mm Mauser caliber leading the group with a final sale price of $23,000.
Condition, quality, and diversity made this a must participate for a U.S. early Martial collection including Martial Arms pre and post Civil War. A spectacular Civil War New Haven Arms Co. Henry lever action rifle sold for an impressive $51,750. A rare engraved Spencer sporting rifle brought an impressive $19,550 and a rare Confederate second model Griswold and Gunnison revolver sold after a flurry of bidding for $21,850. Intense bidding drove up prices for early Martial Arms including an exceptional and rare U.S. Springfield Model 1882 Chaffee-Reese rifle selling for $8,050.
Other notable sales from the auction included heightened interest in Kentucky rifles with the sales of a J.J. Henry marked Kentucky flintlock rifle selling for $9,775, a J. Roop flintlock Kentucky rifle and a L. Coon marked flintlock Kentucky rifle each selling for $5,462. An engraved Germanic wheel lock with elaborate relief carved stock sold after a heated battle for $16,100, and an exceptional early 19th Century American Scrimshawed powder horn with patriotic motif brought a notable $6,325. Class III items were also in high demand with aggressive bidding on an original M60 "Fully Active" (New England Group/Maremont) medium machine gun complete with tripod T&E and pintle which finally sold for $40,250.
The May Premiere Auction by Rock Island Auction Company has set the bar for all other auctions with over $8 Million in sales, an impressive sell through rate, and now the worlds largest firearms auction facility. Since 2004 RIAC has been the world leader in both dollars of guns sold and number of guns sold and with 2011 sales over $10 Million already they are on track to repeat again in 2011.
Join RIAC for their upcoming auctions: July 16th and 17th Regional Firearms auction, and the next Premiere Auction will be held September 9th 10th, 11th. RIAC is currently seeking consignments for upcoming auctions. Consign one piece or an entire collection and know that you are consigning with the best. For more information on selling at auction contact Pat Hogan or Judy Voss at 800-238-8022 or visit the website www.rockislandauction.com
About:
Rock Island Auction Company has been solely owned and operated by Patrick Hogan. This company was conceived on the idea that both the sellers and buyers should be completely informed and provided a professional venue for a true auction. After working with two other auction companies, Mr. Hogan began Rock Island Auction in 1993. Rock Island Auction Company has grown to be one of the top firearms auction houses in the nation. Under Mr. Hogan's guidance the company has experienced growth each and every year; and he is the first to say it is his staff's hard work and determination that have yielded such results. Visit: www.rockislandauction.com