Modern Defensive Training Systems News, Updates & Events August 2011
Check the following video wih Guest presenter Claude Werner (aka HeadHunter) demonstrates a dot torture ball and dummy drill.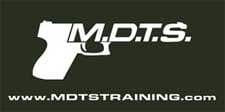 Utica, NY –-(Ammoland.com)- So far the summer is moving right along for us here at MDTS and fall will soon be upon us so get out and shoot while this good albeit extremely hot weather lasts.
Many of you have now met in class or possibly seen Captain Luke Slatton in last month's MDTS video tip. Luke is a welcome addition to the Modern Defensive Training Systems staff bringing a wealth of real world knowledge and fighting experience to our classes.
A little background on Luke: he is an infantry officer in the US Army and an Army Ranger with significant combat experience.
Luke spent more than 27 months deployed in support of the Global War on Terror (OIF/OEF). He has conducted combined arms combat operations with every branch of the military, and conducted operations with both foreign and domestic Private Military/Security Companies. Luke is a subject matter expert on small unit tactics and combined arms integration, with a focus on military operations in urban terrain (MOUT).
You will be seeing Luke more and more this year and in 2012, help us welcome Luke by introducing yourself to him at the next class or training event.
August Updates:
Another Combative Carbine Skills 1&2 course has been added to the schedule for Oct 8th in Greene, NY. See the MDTS schedule page for more details.
MDTS will be hosting our friend, CMD Boxing and BJJ coach Cecil Burch in New York Mills, NY on Sept 10+11 for CMD Boxing Level 1 & BJJ Fundamentals. Don't miss this opportunity to get introduced to and train in two very functional/street relevant methodologies, see more details below.
Facebook:
If you are on facebook check the MDTS Facebook page when you get a chance or join up if you are not. We are increasing our online efforts to provide more services and information to MDTS customers via the FB page. We will be posting more personal training logs, videos, drills, gear reviews, pictures from classes, articles and invites to various short notice MDTS Training events there on a regular basis.
If I don't run into you at a class, at the range or on the mats have a great summer and as always, keep training.
Chris
About Chris:
Chris Fry is the owner and director of training and curriculum development for Modern Defensive Training Systems in Utica, N.Y. where he conducts courses in reality driven practical combatives skills, extreme close quarters physical defense, tactical folding knife and edged weapon combatives and combative pistol, carbine and shotgun skills. MDTS offers a variety of courses for responsible citizens, corporations, law enforcement and the U.S. Military with a singular goal of providing up to date, realistic and practical personal protection training. Visit: www.mdtstraining.com