Bray Wins Iron Sight Revolver Title At 2011 Steel Challenge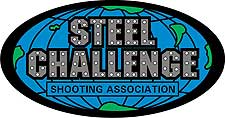 PIRU, Calif. –-(Ammoland.com)- Facing off against one of the most talent-packed fields of revolver shooters, Frank Bray of West Hills, Calif. came away from this weekend's Steel Challenge World Speed Shooting Championships in Piru, Calif. with the Iron Sight Revolver title.
Bray, who finished 10th in the Open Revolver division in 2010, spent the off season training with an eye towards cutting his time by upwards of 40 seconds. He took the title this year with wins on four of the eight stages and a final score of 115.05 seconds, 4.54 seconds faster than the winning time in 2010.
"Frank has shown dramatic improvement in his overall times and has moved into the top tier of revolver shooters in the sport of speed shooting. I won't be surprised if we see the name Frank Bray atop the leader board at future matches," said Mike Dalton, match director and one of the co-founders of the Steel Challenge.
Second place in the Iron Sight Revolver contest went to Team Smith & Wesson's David Olhasso of Holland, Pa. who won three stages and finished with a time of 117.18 seconds. Third place went to Olhasso's Smith & Wesson teammate, John Bagakis of Livermore, Calif. with 120.49 seconds.
Rounding out the top five were Mario Siemeling of the Netherlands in fourth with 121.27 seconds and the 2010 defending champion, Seiichi Ishikawa of Montebello, Calif. in fifth with 124.09 seconds.
Celebrating its 30th anniversary this year, the Steel Challenge World Speed Shooting Championships has served as the unofficial proving ground for the latest shooting equipment and determined who within the shooting sports community is truly the fastest of the fast.
For more information on the Steel Challenge Shooting Association visit www.SteelChallenge.com, follow @SteelChallenge on Twitter, find Steel Challenge on Facebook (facebook.com/SteelChallenge) or visit the Steel Challenge blog (www.steelchallenge.posterous.com/).