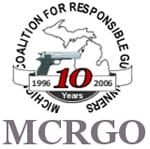 Michigan – -(Ammoland.com)- Q: My pistol has a lot of engraving on it. Meaning, it has the maker's name, the model name, the caliber, and the serial number in two places. I'd like to have some of this removed by a gunsmith, just for the sake of appearance. Of course, I would not remove the serial numbers. Can I do this legally?
A: MCL 750.230 states: "A person who shall willfully alter, remove, or obliterate the name of the maker, model, manufacturer's number, or other mark of identity of a pistol or other firearm, shall be guilty of a felony, punishable by imprisonment for not more than 2 years or fine of not more than $1,000.00. Possession of a firearm upon which the number shall have been altered, removed, or obliterated, other than an antique firearm as defined by section 231a(2)(a) or (b), shall be presumptive evidence that the possessor has altered, removed, or obliterated the same."
So, not only do you have to leave the serial numbers on the pistol. You also have to leave all marks of identity. As you can see above, the penalty for removing any of the information listed is quite severe. Also note that merely possessing a gun that has been unlawfully altered raises the presumption that you did, or ordered, the removal.
So, the only safe course of action I can recommend is to leave all factory engraving intact. I can find no prohibition on adding decorative, or personalized engraving so long as the original factory engraving is left intact.
Steve Dulan (www.StevenWDulan.com) is a member of the Board of Directors of the MCRGO and the MCRGO Foundation, and a member of the Board of Trustees of the MCRGO Foundation. He is an attorney in private practice in East Lansing and Adjunct Professor of firearms law at The Thomas M. Cooley Law School, as well as an Endowment Member of the NRA.
About:
The Michigan Coalition for Responsible Gun Owners is a non-profit, non-partisan organization. Formed from just eight people in 1996, we now have thousands of members and numerous affiliated clubs across the state. We're growing larger and more effective every day.
Our mission statement is: "Promoting safe use and ownership of firearms through education, litigation, and legislation" Visit: www.mcrgo.org