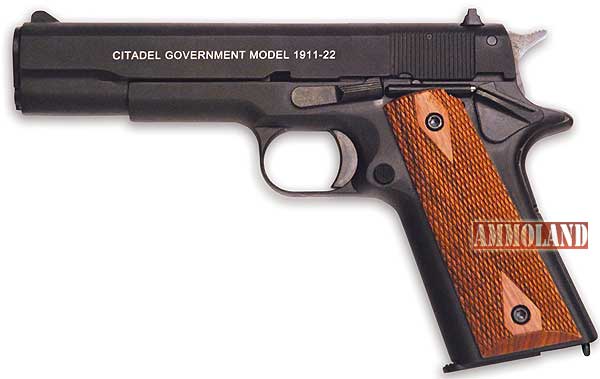 Reno, NV – -(Ammoland.com)- Legacy Sports International announces a new, rimfire replica of the Model of 1911 semi-auto pistol designed by John Browning and carried by U.S. troops for most of the 20th Century.
The CITADEL M-1911.22 G.I. model is similar in weight and balance, as well as handling characteristics as "Old Slab Sides".
However, unlike the military model, the CITADEL M-1911-22 G.I. has been redesigned with a fixed barrel and blowback action that provides for high accuracy without a high price. The CITADEL M-1911-22 G.I. also comes with two (2), 10 round magazines!
The CITADEL M-1911-22 G.I. is constructed of alloy and steel parts, and features two-piece, wooden grip panels that are interchangeable with standard 1911 grips.
Sights are standard G.I. and are also interchangeable with centerfire 1911 sights. In fact, the entire pistol is configured to standard G.I. specifications, right down to the lanyard loop! The CITADEL M-1911-22 G.I. model, therefore, is an ideal choice for target shooting practice in place of the .45 ACP, as well as for general plinking. It also makes a GREAT companion gun to our new, M-1.22 carbine! The CITADEL M-1911-22 G.I. has a 4.75 inch barrel with six grooves, and a rate-of-twist of 1:16 inches. It weighs 2.1 lbs. and is designed to fire .22 LR ammunition.
The CITADEL M-1911-22 G.I. is sold with two, 10 round magazines. Each pistol is factory tested for reliability and accuracy and have been found to shoot groups of .75 to 1.5 inches at 25 yards.
Legacy Sports International, LLC is an importer of firearms and shooting accessories. Bringing in high quality, reliable and affordable products for shooting and hunting enthusiasts is the mission of Legacy Sports' business.
With well-respected brands including Howa and Puma rifles, NikkoStirling optics, Escort shotguns, Citadel handguns and shotguns and ISSC pistols and rifles, Legacy Sports is committed to offer today's shooting sports enthusiast performance on the range and in the field. Legacy's track record proves – without a doubt – that they have consistently provided accurate rifles and shotguns as well as award-winning optics for sportsmen on a budget.
This is why Legacy Sports is known as "The Most Trusted Name in the Shooting Industry".
Catalog Number Caliber Finish
PCP191122GOV .22 LR Matte Black/Wood Grips/Lanyard Loop
Mag. Capacity Bbl. Length Overall Length
10 Round, Single Stack 4.75 Inches 8 Inches
Weight Mags Included MSRP
2.1 lbs. (2) 10 Rnd. $301.00