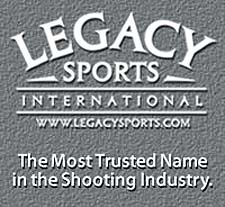 Reno, NV – -(Ammoland.com)- Legacy Sports International announces the addition of the Howa/Hogue/Targetmaster combo package.
These new package rifles are available in 20 inch heavy (#6 contour) barrels, in either standard or fluted barrel configurations.
Fluted barrel models are available in either black or o.d. green colored Hogue Overmolded stocks in .223 Win. or .308 Win. calibers. Standard heavy barrel models are also available in black or o.d. green Hogue stocks in .223 Win., .22-250 Rem. or .308 Win. calibers.
Hogue stocks are weather resistant and chemical resistant, and offer aluminum pillar bedding under a high-tack, rubberized skin that comes with cobblestone grip surfaces on the forend and pistol grip.
All Howa/Targetmaster combos feature Nikko-Stirling Targetmaster 4-16×44 scopes. Targetmaster scopes feature high grade glass with light gathering coatings, saddle parallax adjustment and threaded sunshade. A 30mm body allows more light to enter the scope.
Turrrets are target style, allowing for easy setting adjustment. Just pull out and turn! Push down again to lock. And, the Targetmaster also allows you to re-zero your scope without special tools – a function needed for quick windage and elevation adjustments on the bench or in the field. The Nikko-Stirling Targetmaster 4-16×44 features a Mil Dot reticule etched into the glass that is illuminated with red light.
Howa rifles feature the NEW HACT two-stage trigger system, three position safety, forged, flat-bottomed receiver and forged, two lug bolt. Howa rifles are known for their accuracy and dependability.
Catalog Stock
Number Caliber Color Barrel Length & Contour Length of Pull Overall Length Weight MSRP
20" HEAVY FLUTED BLUE BARREL
HGT80227+ .223 BLK 22" #2 13.87" 42.25" 9.35 lbs $782.00
HGT80228+ .223 GRN 22" #2 13.87" 42.25" 9.35 lbs $782.00
HGT83127+ .308 BLK 22" #2 13.87" 42.25" 9.35 lbs $782.00
HGT83128+ .308 GRN 22" #2 13.87" 42.25" 9.35 lbs $782.00
20" HEAVY BLUE BARREL
HGT90227+ .223 BLK 22" #2 13.87" 42.25" 9.35 lbs $744.00
HGT90228+ .223 GRN 22" #2 13.87" 42.25" 9.35 lbs $744.00
HGT91227+ .22-250 BLK 22" #2 13.87" 42.25" 9.35 lbs $744.00
HGT91228+ .22-250 GRN 22" #2 13.87" 42.25" 9.35 lbs $744.00
HGT93127+ .308 BLK 22" #2 13.87" 42.25" 9.35 lbs $744.00
HGT93128+ .308 GRN 22" #2 13.87" 42.25" 9.35 lbs $744.00
About:
Legacy Sports International, LLC is an importer of firearms and shooting accessories. Bringing in high quality, reliable and affordable products for shooting and hunting enthusiasts is the mission of Legacy Sports' business. With well-respected brands including Howa and Puma rifles, Nikko Stirling optics, Escort shotguns, and Citadel handguns and shotguns. This is why Legacy Sports is known as "The Most Trusted Name in the Shooting Industry." For more information contact: www.legacysports.com