The Fowl Life With Chad Belding Presents Drake White & Opening Act Leith Loftin At Shorty's Saloon In Idaho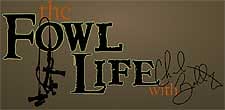 ATLANTA –-(Ammoland.com)- The Fowl Life with Chad Belding has partnered with the Wyakin Warrior Foundation to bring a benefit concert to Boise, Idaho, December 10, 2011, at Shorty's Saloon.
All concert proceeds go to the Wyakin Warrior Foundation (www.wyakin.org), a nonprofit organization for severely wounded veterans, to help transition them into successful and rewarding careers.
"The entire Banded family and I are so excited to have the opportunity give back with this event," Belding said. "Chad Ryan (The Fowl Life/Banded Nation) has worked very hard to make this happen, and he deserves a lot of the credit. We couldn't be happier or more proud to be working with the Wyakin Warriors Foundation."
The concert will feature Universal artist Drake White and co-writer and good friend Leith Loftin. Both artists have flown in from Nashville to show their support for veterans and for the foundation.
Shorty's Saloon features some of the best live entertainment in Boise. It is located at 5467 Glenwood Street Garden City in downtown. The doors open at 6 p.m., and the concert begins at 7 p.m. General admission is five dollars.
About Chad Belding:
Chad Belding's success started with his reality hunting show called 'The Fowl Life with Chad Belding' which launched on Sportsman Channel and WILD TV in 2008, and airs in more than 40 million homes in North America. Fans across the nation have watched as Belding and his crew hunt in more than 15 states across the U.S., incorporating a local guest in each location who offers advice on their local hunting ground and participates in the hunt. Now approaching season three, 'The Fowl Life with Chad Belding' is becoming the must-see reality series for hunters across the nation. Belding also launched a new show focused on predator hunts and wildlife conservation called 'Dead Dog Walkin,' which began airing on Sportsman Channel and WILD TV March 2011.
About Banded Nation:
Launched in January 2011, Banded Nation is comprised of hunters, editors, graphic designers, producers, videographers and on-camera personalities dedicated to bringing a new approach to outdoor television and outdoor style. Banded Nation was founded by renowned outdoor hunting show host Chad Belding and acts as the parent company to a wide variety of properties including Sportsman Channel and WILD TV's award-winning national television series 'The Fowl Life with Chad Belding,' the new predator hunting television series 'Dead Dog Walkin' and Banded Gear. Visit www.bandednation.com for more information.