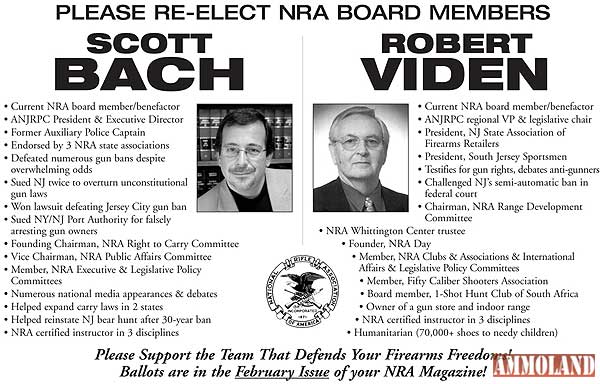 New Jersey –-(Ammoland.com)- There are many things to discuss in today's President's Letter. Please it read to the end.
In summary, I will talk a bit about our recent WIN at the NJ Assembly Law & Public Safety hearing on bill A588, and yet another CITIZEN ACTIVIST who succeeded in getting his town to withdraw an offensive form from their handgun purchase permit procedure.
There is our upcoming meeting with successful Supreme Court attorney Alan Gura, the Non-resident CCW licensing program, the fact that Scott Bach and Bob Viden are being endorsed by the NJ2AS for positions on the NRA Board of Directors, and some excellent opportunities for you to get involved in our various committees, and more.
NJ2AS MEMBERS ROCK THE NJ ASSEMBLY
Last week we discovered that the NJ Assembly Law & Public Safety Committee was planning to hold a hearing on the Introduction of two bills potentially affecting firearms owners in New Jersey – A588 & A 1013. I sent you all an email asking you to contact the members of the committee with phone calls, emails and FAXES. Well… YOU GUYS AND GALS *ROCK*!!!
YOUR response was INCREDIBLE! Every committee member was inundated with calls, email and FAXES to the point where there were calls asking us to stop. On Tuesday January 30, 2012 a number of your fellow members and I attended the hearing. YOUR efforts were not in vain. Most of the committee members expressed OUR concerns to the sponsor of the bill Assemblywoman L. Grace Spencer. Then Scott Bach of the ANJRPC testified after which I testified. All this effort resulted in Bill A588 being TABLED. I doubt if it will ever see the light of day again. JOB WELL DONE PEOPLE! I thank everyone who participated (and I KNOW there were a LOT of you), and I encourage everyone to stand ready to *ACT* again the next time we need to face off against an unfair bill. As far as bill A1013 is concerned, we were told that it would be recommended to the full assembly, but with amendments to protect law-abiding firearms owners from being negatively affected. We will keep a vigilant eye on the progress of A1013.
CITIZEN ACTIVISM STRIKES AGAIN
One of our members, Angel Hernandez contacted me a little over a week ago regarding an intrusive form his town, Hopatcong, was requiring him to complete in order to apply for a handgun purchase permit. They were refusing to process his application without it. I explained to Angel the following approach, which was successful in getting the form dropped. I recommend this procedure to anyone facing a similar problem. I will also post this on our website for people to refer to:
HOW TO DEAL WITH ADDITIONAL FORMS
1.) Remember to *ALWAYS* be polite. Just because you are 'right" it does not mean you will be successful MERELY by demanding your rights. Politely ask to speak with the police chief. Make an appointment if necessary. This step is very important. Please explain to your police chief (or the person who is ultimately in charge of signing your permit) that according to 2C:58-3(f):
"There shall be no conditions or requirements added to the form or content of the application, or required by the licensing authority for the issuance of a permit or identification card, other than those that are specifically set forth in this chapter".
If they still insist that they will not process application without completing the form, thank them and politely indicate that you will have to take your request to the town council and mayor for their opinion. You have been assured by the President and Board of Directors of the New Jersey Second Amendment Society that Superior Court Judge Douglas Hurd has ruled that all towns and municipalities are required to comply with all NJ state statutes with regard to the processing of these permit applications.
2.) Contact the Assembly Representative and Senate Representative for your district (you can locate them from THIS page). Make an appointment to meet them if possible. At the very least make sure they receive the following request (in your own words if you like):
"I would like to ask for your help. I have lawfully applied for a Firearm Identification Card/Handgun Purchase Permit (whichever applies). I was told by officer "Soandso" (it helps to have the person's name) that I am required to complete a form that is not allowed by the New Jersey Firearms Statutes according to 2C:58-3(f) (and cite the statue above).

It is my belief that this/these additional form(s) (be sure to attach if sending an email or include if sending through the mail) is/are a clear violation of the statutes and I am asking for your help in convincing the "YourTownName" Police Department to discontinue the use of this/these form(s).

I would also appreciate it if you would contact Lt Daryl Williams, the Unit Head of the NJ Division of State Police Firearms Investigation Unit about this matter. Perhaps you will be more successful in convincing him and or the Attorney General's office to help. Many of my friends and associates from other towns are experiencing the same difficulties. I know that you agree that your constituents and the law-abiding residents of New Jersey deserve to be treated fairly by those who are sworn to uphold the laws of the state of New Jersey and I would appreciate it if you would intercede on my behalf".
3.) IMMEDIATELY make an appointment with your Mayor and/or town council to discuss this problem and ask politely for their assistance. You are trying to follow the law and you expect your town to comply with state statutes. You are not asking for any special favors. You are only asking to be treated FAIRLY according to the law as it is written. DO NOT THREATEN! DO NOT LOSE YOUR TEMPER! This is simply a process we HAVE to go through in order to have standing if we need to take further steps. PLEASE – make our job easier by keeping a journal of EVERYONE you talk to about this, with dates, times and basic result (i.e. On 2/25/2012 Chief promised to look into it and get back to me in two days). Always be sure to try and get a specific time commitment as to when you can expect a follow up communication from the people you contact.
4.) KEEP US IN THE LOOP. Email [email protected] and let us know what you are doing and the results. There are times when *WE* will want to add our "two cents" by writing to your representatives or by visiting your Chief of Police or Councilman with you (if possible). We will do our best to guide you through this process.
5.) THIS PROCESS WORKS! One by one NJ towns are dropping these additional forms and requirements. We will begin working on getting them to comply with the 30 days processing limits as well, but for now we have to concentrate on getting rid of these forms.
NOTE – The procedures listed above will be updated and revised as necessary – please check for the latest version on www.nj2as.com.
*** PREREGISTER*** ALAN GURA TO ADDRESS THE NJ2AS FEBRUARY 29, 2012
As you may be aware, successful Supreme Court attorney Alan Gura will be the featured speaker at the monthly meeting of the New Jersey Second Amendment Society on Wednesday evening February 29, 2012 at 7:30pm at the American Legion Post 129 on 2025 Church Road in Toms River, NJ. All are invited and ENCOURAGED to attend this very special event. Due to limited seating, it is EXTREMELY important that you PREREGISTER for this FREE event. Preregistration will make it easier for us to process people through the door and get you seated as quickly and easily as possibly. Those who do not preregister will be required to sign in at the door and will be seated on a FIRST COME/FIRST SERVED basis. We expect a large crowd for this meeting. Don't be disappointed – REGISTER TODAY! For further information and to REGISTER please go to our website at www.nj2as.com under "EVENTS"!
WE WILL HOLD THE NON-RESIDENT CCW LICENSING PROGRAM PRIOR TO THE MEETING
You *MUST* preregister and prepay for this processing PRIOR TO FEBRUARY 25, 2012 to be eligible. Requirements and complete details are listed on our website www.nj2as.com.
SCOTT BACH & BOB VIDEN RUN FOR NRA BOD!
The ballots have gone out to the NRA Life Members to record their choice for membership of the NRA Board of Directors. The NJ2AS endorses Scott Bach and Bob Viden to represent New Jersey. I urge you to cast your ballot for Scott and Bob. Let's keep New Jersey adequately represented on the NRA BOD. For additional information and biographical information please visit www.bachbio.com and click on the YouTube Video below:
COMMITTEE MEMBERS NEEDED
Several members have asked me how they can help move the NJ2AS mission forward. Recently the board of directors and I developed a framework of committees that require your help and participation. We have left the descriptions fairly open and flexible because the duties and responsibilities of the committees will grow and change as the membership grows. We will be able to do much more when we have enough members working in these vital areas. Here is a list of the various committees and who to contact if you would like to participate. You will notice that there are a LOT of areas that need help. Please keep in mind that we are all pretty much amateurs. If you have any special skills that would be great, but no special skills are required. As long as you are willing to help, we can use you. There are a lot of opportunities for people to shine. Many of the areas are just getting off the ground. Some do not have a leader or any members yet. Why not tackle one of these committees? You will have plenty of opportunity to interact with members of the other committees and there will be quite a bit of overlap. If you discover something I have neglected, please let me know and I will try to add it to the list. If for some reason you have difficulty getting in touch with one of the committees, please email me. THANK YOU!
LEGAL – [email protected]
Research
Identify firearms possession cases that were pled down to lessen or avoid prison time.
Uncover other abuses and infractions by LE of individual rights and NJ Firearms statutes
Ongoing Litigation
The OPRA appeal
Operation Establish Compliance
Legal Defense
Prepare for the defense of individuals who deserve and require our assistance
Evaluate and develop a plan to emulate a civil rights defense strategy
LEGISLATIVE – [email protected]
Political Action
Form district committees to monitor and organize action against unfavorable legislation
Develop programs to promote and support favorable legislation
Petitions
Evaluate opportunities to enlist community support through petitions
Organize and coordinate letter writing campaigns, letters to the editor, etc.
MEDIA – [email protected] and [email protected] – Tom Watt & Mark Steele
Communications
Internal communication of relevant information and appeals for action
External promotion of meetings events and activities
Formulating and distributing Press Releases
Web & Internet
Frequent maintenance and updating of website to keep it fresh and relevant
Encourage participation in NJ2AS BLOG, Facebook and Twitter (perhaps forum)
Develop cooperative relationships with other relevant online groups
Newsletter
Evaluate the need for "hardcopy" newsletter or. "e-zine"
Gather, coordinate, develop, Edit and format content for the newsletter
Enlisting sponsors and advertisements
Recruiting and coordinating "artistic" talent for original content
Speakers
Represent the NJ2AS at shows, clubs, and events
Give presentations on the mission, goals and accomplishments of your Society
Answer questions. Assist with press conferences.
Distribution – [email protected] – Corey Vaughan
Design, develop, and distribute mailings and posters promoting events & meetings
Merchandise
Evaluate, design, develop and procure NJ2AS merchandise for promotion & fundraising
MEMBERSHIP – [email protected] – John Willett
Recruitment
Among other responsibilities convert "attendees" into members at meetings & events
Expedite problems with membership processing or updates
Promote renewals
Meeting Planning
Identifying and recruiting relevant speakers and presenters for the monthly meetings
Arranging for venues
Setting up venues for meetings
Diversity – Kimberley Ball
Identify issues specifically of concern to women
Identify programs and recruitment opportunities
Membership Registration
Assist with preregistration for meetings, events, activities and programs
Greeting members and guests and assisting with sing-in
SPECIAL EVENTS – [email protected]
Beginner Shooting Events – Michael Kunkel
Finding venues, working with ranges, assist Media committee with promotions
Arrange for proper personnel and safety procedure for these events
CCW Licensing Programs – Anthony Colandro
Assist with the registration, collection of fees and processing of participants
Troubleshoot and expedite problems and questions
Arrange and facilitate special demonstrations.
FINANCE – [email protected] – Frank Jack Fiamingo
Accounting – Avi Finkel
Keep accurate records of ALL financial transaction made on behalf of the NJ2AS
Responsible to the Treasurer for monitoring, auditing and financial reporting
Fund Raising
Evaluate, develop, plan and execute fund raising drives, events, matching funds, etc.
Insurance
Assist in identifying insurance needs and ensuring we maintain adequate coverage
EDUCATION
Identify, evaluate, design, develop and execute community education programs
Assist in educating committee heads and members in their duties
EXECUTIVE – [email protected] Frank Jack Fiamingo
Committee Liaison
Assist the board and President with supporting and monitoring committee's progress
Help develop strategic relationships with State and Nations rights groups.
Help with succession planning
Plan and run elections
Bylaws
Examine the bylaws of similar group to develop and improve NJ2AS bylaws.
YOUR SOCIETY
You have a lot of reasons to be proud of your Society. We are without a doubt the single most active firearms owners' rights group in New Jersey. We have more meetings and more active grassroots participation than any other group in New Jersey. In less than two years this Society has grown to have a significant impact on the restoration and preservation of the fundamental human right to keep and bear arms for legitimate purposes. Please help us do even better. Join one of our committees TODAY, and become one of the people who is actually DOING something positive to regain FREEDOM and LIBERTY in the great garden state of New Jersey! Don't forget to join us for the fun on Facebook https://www.facebook.com/groups/nj2as/. Until next time, please remember-
THE TIME IS NOW!!!
Thank you, Frank Jack Fiamingo
President – NJ2AS
---
About New Jersey Second Amendment Society

Our mission is to promote the free exercise of Second Amendment rights within the community and Legislature of New Jersey, to educate the community regarding the enjoyable, safe, and responsible use of firearms, and to engender a sense of camaraderie and fellowship among the members and their families. Visit: www.nj2as.com