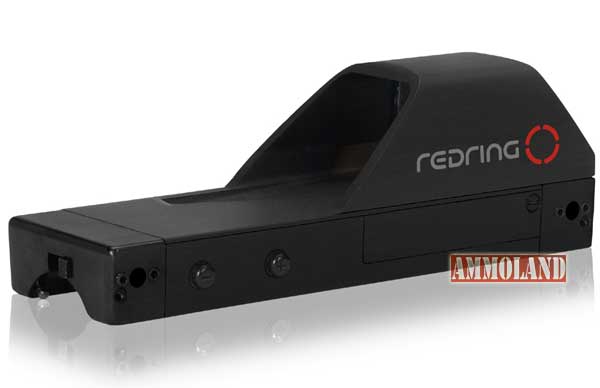 DANBURY, CT –-(Ammoland.com)- Redring USA LLC, importer and distributor of the truly innovative Redring optical shotgun sight, has signed with Laura Burgess Marketing (LBM) to help expand the brand name into the American market.
LBM will manage Redring USA LLC's media relations with editors, writers and bloggers to make the largest impact through print and web-based editorial, as well as to help manage and maintain their emerging media platforms.
LBM will also work with Redring USA LLC's spokesperson, Patrick Flanigan, an 8-time world record holder in Xtreme Sports Shooting and star of numerous television programs such as "Hot Shots," "Impossible Shots," and his own program "Shell Shocked," to promote the sport to new shooters through educational events.
Redring The Redring shotgun sight was developed for use on any shotgun with a rib. The Redring helps beginners and seasoned shooters achieve better aim on the moving target and hit more targets successfully. Unlike traditional sights sold on the market, the Redring features smart technology that allows the shooter to immediately take fast and instinctive shots with both eyes open. This sight is not for aiming, it's for fast shotgun shooting. It gives the hunter another reference point to confidently bag the birds with less-to-zero collateral damage to game.
The low profile Redring mounts quickly and easily on the rib of the gun. The sight does not need to be calibrated or sighted-in; it's ready to go! The Redring comes with an integrated recoil absorbing mount for shotguns with a rib width from 5 to 11.5mm.
Redring Specifications:
Battery: AAAA 1.5V, Approx 300 h life. Automatically shuts off after 4 hrs
Weight: 134 g (4.726oz) excl. mounts, 192 g (6.773oz) incl. integrated mount
Length: 134 mm (5.275in), incl. integrated mount
Width: 44 mm (1.732in)
Height: 45.7 mm (1.779in)
Material: Anodized aluminum
MSRP: $899.00
For more information on the advantages to using the Redring on your shotgun, visit www.redringusa.com. Like us on Facebook or check out the YouTube videos on the Redring advantage. For Retailers, Redring offers a variety of profit-making, eye-catching promotional packages. Start making money by emailing Robert Walzer at [email protected] to carry the Redring line. Media enquiries should also be sent to Robert Walzer at his email address or by telephone request at 203-546-3611.
Redring is, from the start, a brilliant idea. Today this idea has become a world-class product – designed, developed and manufactured in Sweden without compromise. www.redringusa.com
About Laura Burgess Marketing:
Laura Burgess Marketing provides public relations and marketing communications to companies within the law enforcement, tactical, military, shooting sports and outdoor markets. An industry veteran, with over 21 years of experience, Laura Burgess Marketing current client list includes: Revision Military, G4S International Training, Inc., American Technologies Network, Corp., Sentry Solutions, LLC, MasterPiece Arms, Morphix Technologies, LaserLyte, American Gunsmithing Institute, DoubleTap Firearms LLC, KRISS Arms Group, GASTON J. GLOCK style LP, NavELite and Freedom Hunters. Laura Burgess Marketing is headquartered in New Bern, NC, with a satellite office in Palm Coast, FL. www.lauraburgess.com