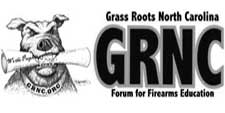 North Carolina –-(Ammoland.com)- Sometimes I hate to be right. Just days ago I told gun owners that the gun ban Senator Dianne Feinstein is planning to introduce will be considerably worse than what expired in 2004.
Some gun owners responded, "Yeah, right. 'The sky is falling, the sky is falling.'"
Yesterday it became official: Gun owners who want to hang on to their "grandfathered" semi-automatic firearms will not only have their guns registered, they will be fingerprinted and photographed like common criminals.
Don't believe me: Check it yourself
On Feinstein's own website, (https://www.feinstein.senate.gov/public/index.cfm/assault-weapons )  the ugly details of her massive gun grab are now starting to emerge: Beyond the ban on magazines and specifically named firearms, any gun possessing even one cosmetic feature characteristic of semi-automatic utility rifles would be banned. Thumbhole stocks typical of .22 caliber plinking rifles would also be specifically banned.
But the real intent is stated in how she plans to treat people who already have semi-autos: Gun owners will be registered under the 1934 "National Firearms Act" – the same one that now regulates machine guns.
Says Feinstein herself, it would entail:
Background checks of existing owners and any transferees;
Registering the type and serial number of the firearm;
Photographing and fingerprinting gun owners;
Local law enforcement signoffs certifying the gun owners' identity and that possession would not violate State or local law; and
Dedicating funding for BATFE to implement registration.
Please note first that local law enforcement authorities are not required to provide such certifications, so in all probability, the "grandfather" clause will be meaningless.
And you had better learn to love the nice people at the Bureau of Alcohol, Tobacco and Firearms – the same folks responsible for Waco back in the 1990s – because you'll be seeing a lot more of them: "Dedicated funding for ATF to implement registration" of several hundred thousand guns probably translates to the most massive expansion of federal police powers in U.S. history.
And if you refuse to comply with the law – as tens of thousands of gun owners will undoubtedly do – you can look forward to being prosecuted as a ten-year federal felony.
'Confiscation could be an option…'
The "from my cold dead hands" gun owners who refuse to register guns under Feinstein's scheme also have this to look forward to: "Amid talk of reinstating the assault weapons ban that expired eight years ago, police departments nationwide are thinking of ways to confiscate such weapons." That comes directly from CBS News.
New York Governor Andrew Cuomo agrees. Discussing his upcoming proposal, he said: "Confiscation could be an option…"
The time for action is NOW!
You must immediately do four things:
Sign the petition to STOP THE OBAMA GUN BAN by going immediately to: https://grnc.org/stop-the-obama-gun-ban-petition-gpo1203
Tell Congress you won't tolerate attacks on your rights: Do so by using GRNC's contact page at: https://grnc.org/stop-the-obama-gun-ban
Support GRNC: We are already meeting with members of Congress to give them a "spine injection" and get them to oppose the Obama gun ban when it is introduced. That means going to Washington, and that requires money. If you haven't yet joined or contributed, go to: https://grnc.org/index.php/join-grnc/contribute
Forward this article: Maybe you some know some lazy shooters at the wildlife club; maybe you know somebody with a concealed handgun permit who feels this issue doesn't affect them. Get them informed and active!
Deliver this message to Congress
"Dear [Congressman or Senator]:

The extent of the massive power grab being planned by Barack Obama, Joe Biden and Dianne Feinstein is now frighteningly clear: According to Senator Feinstein's own website, any gun owner who currently owns a semi-automatic utility rifle will either have the gun confiscated or be fingerprinted and photographed like a common criminal.

To implement this unprecedented gun registration scheme, its proponents plan a massive expansion of police powers via the National Firearms Act and the Bureau of Alcohol Tobacco and Firearms – an expansion which will undoubtedly waste untold billions of dollars.

Beyond even erosion of my Second Amendment rights, the Obama/Biden/Feinstein power grab attacks the core freedoms enjoyed by Americans. I expect you to stop this legislation dead in its tracks, and will be monitoring your actions via Grass Roots North Carolina legislative alerts.

Respectfully,

[Your name & address]
With your support, we will prevail
Dark those these times may be, make no mistake: We can drive back the forces that would steal your freedom, but doing so means YOU must monitor legislative alerts and stay informed. YOU must contact Congress. YOU must contribute to gun rights organizations such as Grass Roots North Carolina. And YOU must get others involved. Only through your support can we win this fight.
Armatissimi e liberissimi,
About:
Grass Roots North Carolina/Forum for Firearms Education is a non-profit, all volunteer organization devoted to educating the public about trends which abridge the freedoms guaranteed by the Bill of Rights, and engaging in grass roots activism to preserve those freedoms. Formed in 1994 to conduct a highly successful rally for the Second Amendment, GRNC has gone on to conduct projects like "Remember in November: A Gun Owner's Guide to Voting," bringing concealed carry to North Carolina. Visit:www.grnc.org