Editors Note: Many have asked what are these two words, Molon Labe, mean that have, for years, been on the bottom of every page of the AmmoLand Shooting Sports News website?
New Jersey –-(Ammoland.com)- Two simple Greek words of defiance, MOLON LABE or Μολὼν λαβέ, echo through the ages to Americans here and now , thousands of years after the Battle of Thermopylae.
These two words signify the refusal to simply roll over and submit to the demands of a tyrant with overwhelming force at his disposal demanding free people to lay down their arms.
Molon Labe Ancient History
Through out human history there is example after example of Citizens exhibiting extraordinary courage in the face of overwhelming force and superior technology to fight for and if necessary die for their freedom and the freedom of future generations.
When King Xerxes swept across the European Continent on his quest for World Domination, he encountered such iron willed determination and irrepressible spirit of resistance in Leonidas and the Spartans defending Greece.
Xerxes demanded the Greeks lay down their arms in submission and subservience to him. The response from Leonidas and the Spartans was simple, MOLON LABE! Greek for "Come and get them!". Outnumbered 300 to 1, and facing certain annihilation before the one million soldiers of Xerxes Army, the Spartans stood defiant willing and prepared to sacrifice their very lives in a stand against tyranny and oppression.
Though every one of the Spartans, including their leader Leonidas, was killed during the Battle of Thermopylae, they exacted such a terrible price from Xerxes troops that they lost all taste for any more fighting.
Molon Labe USA
The same spirit of resistance in the face of overwhelming force and tyranny gave birth to the United States, when new America threw out the British. It was repeated again during WW II by a tiny band of innocent Jews in the Warsaw Ghettos of Poland who, heavily outnumbered, starving and poorly armed held off more then a company of the most fearsome troops in Hitler's war machine, the SS and Wehrmacht for over a month.
It was repeated yet again in Afghanistan in the 1980s , when simple villagers and farmers took up 100 year old rifles to fight the Soviet Army.
Two well known axioms apply to the current fight over the issue of gun control in the United States. "History repeats itself " and "Those that do not learn from history are doomed to repeat it " . Given the statements and press releases coming from the Offices of the usual suspects in Congress regarding new gun control measures, it seems neither lesson is being heeded.
Comments and proposed Legislation by Dianne Feinstein, Frank Lautenberg, Barbara Boxer , Carolyn McCarthy and NY Democrat John Adler reveal their ignorance of history and what has happened time and time again whenever tyrannical forces raise their heads and seek to disarm Citizens.
Molon Labe
And so it would seem that the lesson must be taught once more, at the cost of enormous bloodshed on both sides. Those so called "leaders" in Govt are so helplessly out of touch, so swollen with undeserved and unearned hubris that they cannot conceive of any possible resistance to their insidious plot. They cannot bring themselves to begin to understand that millions of American Citizens will NOT comply with their unconstitutional and dictatorial demands to disarm, Congressman Adler was actually quoted as saying as much, that he felt it was " insane" to even consider the possibility that Americans would be willing to shoot other Americans over new, draconian gun restrictions.
They are so out of touch, so in love with their own power and willingness to abuse that power against those they claim to serve that they are apparently quite willing to sacrifice innumerable lives of Citizens on the altar of their Anti Gun Ideology.
We are treading dangerously close to 100 more Waco Massacares and Ruby Ridge assassinations if Congress refuses to learn from history, refuses to listen to the Citizens that are their bosses and pull back from their gun banning scheme.
You can only push people so far before they push back, and Feinstein and her cronies at the Federal and State level seem single-mindedly determined to shove as hard as they can. What they can't comprehend is the blowback that is a certain reaction.
There are MILLIONS of Americans who have simply had enough of elite rulers ordering them around, violating their Oaths and chipping away at our freedoms and rights under one false pretext after another. If cooler heads in Congress don't prevail in the coming weeks of the debate on gun control, it is a virtual certainty that there will be bloodshed on both sides.
Thermopylae, Hastings, Lexington, Concord, Warsaw, the Hindu Kush, all of these locations scattered around the globe have at one time or another born witness to man's indomitable spirit of Molon Labe and resistance to tyranny. No one yet knows what the next location will be, Dallas? Cheyenne? Atlanta? Green Bay? , but rest assured, if Congress falls for the pied piper tune of Feinstein and others on gun control, the list of places where freedom stood toe to toe against tyranny will certainly grow several pages longer.
And the defiant cries of MOLON LABE will once again echo through the air around the Country, as free Citizens once again display superhuman courage and bravery in the face of tyranny and oppression and willingly give up their lives in defense of freedom for future generations.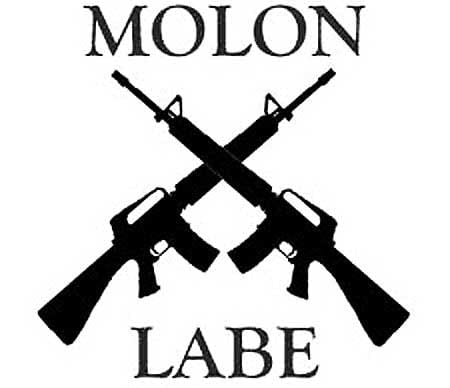 More articles, commentary and information by D. Roberts available at That Every Man Be Armed.com