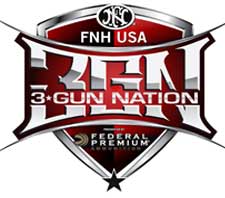 USA –-(Ammoland.com)- In November of 2012, 3-Gun Nation brought forth its newly formed "E-Magazine", a digital magazine dedicated to the sport of 3-Gun. As such, a new issue will be released on a bi-monthly basis, and the latest edition is live right now.
3GN's second installment continues its dynamic coverage of the sport, featuring articles ranging from airsoft training for 3-Gun, to pistol techniques from world champion pistol shooter Bruce Piatt. Free to the public, this edition has more than its fair share of quality material.
The issue begins with a pro tip "casserole," featuring advice from several of the most renowned shooters in the sport. 2012 3GN Champion Tommy Thacker, all-around shooting legend Jerry Miculek and 3-Gun phenom Daniel Horner, to name a few. Each top-level shooter lists one tip that would help readers become better 3-Gun competitors.
However, the issue would be incomplete without comprehensive coverage from the 2013 SHOT Show in Las Vegas. 3GN was there – navigating through 3-Gun specific guns and gear, featuring fully produced video coverage embedded in the magazine.
Speaking of Vegas, during SHOT Show 3GN held the 2012-2013 3-Gun Nation Championship, or "Rumble on the Range." After the sun went down the lights came on, one 3-Gunner walked away with $50,000 in Cash and the title of 3-Gun Nation Champion. Not only does this issue cover the event, but it also features videos as well spotlight some of the most memorable moments from the competition.
Add in an article about shotgun chokes (and loads) by 3-Gun Pro Patrick Kelley, spotlight on country music singer (and 3-Gun shooter) Mark Wills, as well as a comprehensive guide to "Perfect Practice" by 3-gun pro Chris Andersen–and you have an issue worth reading and sharing.
To experience this issue on 3 Gun Nation, CLICK HERE >