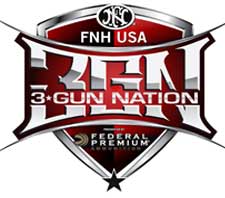 USA –-(Ammoland.com)- The 3-Gun Nation championship, or "Rumble on the Range" as it's known, has quickly become one of the hottest tickets during SHOT Show.
And for good reason—$50,000 reasons to be exact. Taking the shooting sports to a higher level, this event features the worlds' best shooters competing for 3-Gun's biggest prize.
Many will attend the event anticipating dramatic races to the stop-plate, free food and camaraderie while we celebrate our American freedoms and cheer for 3-Gun's biggest superstars. However, much more is on tap during this marquee event.
Not only will the top shooters from the 3-Gun Nation Pro series be competing, but also the ladies as well. The top females from 3GN's ladies series will go head-to-head for $5,000 cash from Hornady. In addition, the 3GN Semi-Pro's will go heads-up in a race for $5,000 from DoubleStar Corporation.
Competitors will race to the stop-plate using AR15 rifles, 9mm pistols and 12 ga. Shotguns under the lights in Vegas.
A live performance is scheduled by award-winning country music artist Mark Wills. Wills will take center stage at approximately 7:00 pm to entertain the crowd with hits such as "19 Something" and "Looking for America." Wills, also a member of the FNH USA 3-Gun team, is a true patriot with more than 10 trips to Afghanistan to entertain U.S. troops. Wills will close his set with his rendition of the National Anthem, which will kick-off the Pro Series Shoot-Off.
The "Rumble on the Range" will also feature a side-shoot sponsored by the American Silencer Association. The American Silencer Association (ASA) is a new non-profit, trade association whose mission is to further the pursuit of education, legislation, hunting, law enforcement, and military applications for the suppressor industry. The ASA will be hosting the shoot for those interested in experiencing suppressors from Advanced Armament Corp., Silencerco/SWR and AWC.
Food and drinks will be catered along with tenting, outdoor warming stations and door prizes from Timney Triggers and others. Vendor displays will be on-site from DSG Arms, Leupold Tactical Optics, Houge Grips, Seekins Precision, SureFire, HAVA, Project Appleseed and more. Most notably, Vertx, one of the industry leaders in tactical apparel, will host a vendor booth and offer 40% off to event attendees.
Last but definitely not least, a FNH USA 3-Gun Package, valued at over $5,000, will be given away to one lucky event ticket holder.
"Thanks to our sponsors, we are pulling out all the stops to host a top-shelf event for our fans and spectators" said Pete Brown, 3-Gun Nation President. "We had an amazing turnout last year, and this year we expect twice the attendance."
Top female competitors will also go "heads-up" in a race for $5,000 Cash from Hornady.
Tickets to the event are available on the SHOT Show floor at the FNH USA, NRA, Leupold Tactical Optics, Stag Arms, Doublestar Rifles, Brownells, MGM Targets and Samson Manufacturing booths. Transportation to the event will be offered, picking up at 5:45 pm outside the Galileo doors in the Venetian tour lobby. Bus transportation will be first-come, first-served.
The "Rumble on the Range", held January 16th at Clark County Range, begins at 6 PM and concludes at 9 PM. Sponsored by NRA Sports and presented by Brownells, the event also sponsored by FNH USA, Leupold Tactical Optics, Federal Premium Ammunition, Stag Arms, Doublestar Rifles, Samson Manufacturing, Warne Scope Mounts, Blackhawk!, NSSF, Timney Triggers, Colt, MGM Targets, Hornady, SureFire, Seekins Precision, Hogue Grips, Oneida Molded Plastics and more.