Union Sportsmen's Alliance Surpasses 50,000 Members to Conclude Successful Year.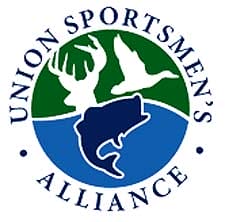 Nashville, TN –-(Ammoland.com)- After raising nearly a million dollars through its popular shooting program, organizing 10 impactful conservation projects across the country, hosting its first three conservation dinners and airing two exciting seasons of its award-winning TV show, the Union Sportsmen's Alliance wrapped up a successful 2012 by surpassing 50,000 active members.
The USA launched in 2007 with the idea that the more than six million AFL-CIO union sportsmen and sportswomen across North American needed an outdoor organization that combined their union and outdoor lifestyles and provided an opportunity to directly confront the challenges facing our outdoor sporting heritage.
After seeing steady growth over the past five years, the USA is gaining momentum, doubling its membership from 25,000 in September of 2011 to more than 50,000 at the end of 2012 thanks to the continued commitment and support of its union and corporate partners. While dramatically increasing its membership base, the USA also made great strides in 2012 to refine its conservation focus and initiatives.
Established in 2010, the USA's Boots on the Ground (BOTG) program brings together union members who are willing to volunteer their time and broad array of expertise to tackle conservation projects that improve and enhance public access, wildlife habitat and outdoor experiences for communities across America. In 2012, the USA coordinated 10 successful BOTG projects in seven states that ranged from breaking ground on a youth shooting facility in Tennessee to helping youth enjoy a day of fishing in Illinois, Ohio and Wisconsin to introducing kids to the shooting sports in Minnesota and building feral hog traps in Illinois.
"In 2012, we sharpened our commitment to ensure the future of hunting and fishing in America by focusing our efforts on three critical ingredients: enhancing public access to the outdoors, conserving wildlife habitat and passing on our incredible outdoor heritage to the next generation," said USA Executive Director Fred Myers.

"Having achieved a new milestone of 50,000 active members, we are more excited than ever about the positive impact we can have by lending the diverse time and skills of our members to critical conservation projects that benefit the communities our members live and work in."
For more information on the Union Sportsmen's Alliance, visit www.unionsportsmen.org.
The Union Sportsmen's Alliance (USA) is a union-dedicated outdoor organization whose members hunt, fish, shoot and volunteer their skills for conservation. The USA is uniting the union community to expand and improve hunting and fishing access and wildlife habitat while passing on our national outdoor heritage. For more information, visit www.unionsportsmen.org or www.facebook.com/unionsportsmen.