Tarheel 3-Gun Shooters Shine in 3GN Pro Series Qual Match.
By Chad Adams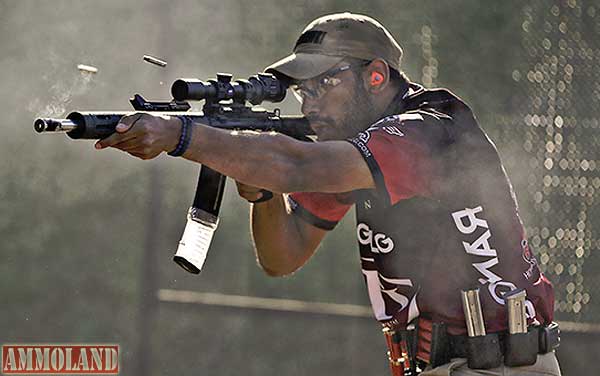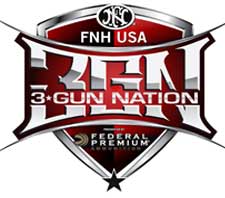 ST. AUGUSTINE, FL – -(Ammoland.com)- Team RangeLog's Ravin Perry, carried by strong pistol skills and a ferocious trigger finger, dominated the 3GN Pro Series Qualifier Match here recently, winning the one-day, five-stage match by eight seconds.
His performance was so stellar, it left a handful of 3GN Pros in attendance asking "Who is this Ravin guy, and where did he come from?"
Perry, who put up a 3:42.00, comes to 3-gun after having competed at a high level in both IDPA and USPSA pistol competition. However, over the last year Perry has dedicated himself to 3-gun, the proof his stellar performance against a tough field of 3GN Divisional, Semi-Pro and returning Pro Series competitors—all battling for one of 16 slots in this year's 3GN Pro Series Tour.
"Knowing his history in pistol, when he started shooting 3-gun, it was amazing how he cut the learning curve in half," said Tarheel 3-Gun Match Director Charles Sole. "I think shooting a pistol and rifle, particularly unless you're shooting precision, the fundamentals are basically the same. His biggest equalizer was the shotgun. He was relentless. I can't remember a match he actually missed, I think he was determined to master this, and I think he's well down that road. He's really put in the effort to do it."
Perry is one of seven competitors that qualified for the Pro Series that have one trait in common—Tarheel 3-Gun. A 3GN Club Series match, Sole's group at Tarheel regularly puts on as many as two local 3-gun matches per month, as well as a major match in April. Sole, who recently took over running the 3GN Club Series, has incorporated 3GN match and stage philosophy into his local Tarheel matches, and that experience shown through when Perry, Rob Tate, Aaron Reed, James Gill, Chad Drewery, Josh Knotts and Steve Wall stepped into the box.
"We are able to offer them 1-2 matches per month. You can shoot all the free throws you want, but until you're standing out there with 10 seconds and the game on the line, you just don't know how you'll react when that buzzer goes off and your peers are looking on—they are in game conditions, it's like they're playing in the big game," Sole said. "We've adopted the 3GN type of shooting, the stage design, multiple choices. Shooters get to choose, and there is lateral movement, moving and shooting, like 3GN."
Of the group that qualified and shoot Tarheel regularly, outside of Raleigh, competitors are coming down from as far as Washington, D.C., where Knotts works in law enforcement. Tate, Gill and others make the morning drive from Virginia, as competitors get up as early as 3:30 or 4:00 AM to make the match.
"I was very excited and very proud for them," Sole said. "I got texts from those guys saying they appreciated having the opportunity to prepare for this. I think that's good for Tarheel 3-Gun."
One of the Tarheel shooters, Marine Sgt. James Gill, is also the head coach for the Marine Corps Combat Shooting Team. Gill, who was severely injured by an IED in Iraq, where he suffered multiple injuries including being blinded in his left eye and later having one leg amputated to just below the knee, shot an outstanding match to qualify 8th overall.
"It went pretty good overall," said Gill. "I'm happy with my match. I had very few extra shots, and that's all I can ask for."
While Gill is a competitor and wanted to qualify like all of these shooters, he brings an extra motivation—one besides his obvious injuries. Gill has been building the Marine Combat Shooting Team over the past few years, and with his qualification for the Pro Series comes validation that the program can take marksmanship skills back to the Marine Corps.
"The biggest thing is bringing credibility to our program," Gill said. "'If I can put out competent instructors, competing in the national spotlight, then I'm happy."
Another Tarheel shooter with something to prove was veteran 3-gunner Chad Drewery. After having a tough season last year in the Pro Series, while having better success at Outlaw matches, Drewery came into the Qual match seeking redemption.
"I feel pretty good," Drewery said. "There were some guys here that really put up some monster numbers. Coming into this, I would have never thought there would be so many shooters come in under four minutes. At the end of the day, I attained my objective to retain my card and get another shot at the series."
Of course, it wasn't all Tarheel shooters that made the cut. John Mouret, Mike Cassidy, pistol champion BJ Norris, Mike Chambers, Lance Dingler, U.S. AMU's Joel Turner, David Hill and Rick Birdsall all put together solid matches to earn their first shot at the 3GN Pro Series.
"I achieved my objective today," Mouret said. "I came in hard, my mindset was solid. I planned my work, and I worked my plan."
3-Gun Nation Pro Series Qualifier Results
| | |
| --- | --- |
| Ravin Perry | 03:42.30 |
| Aaron Reed | 03:50.90 |
| John Mouret | 03:53.50 |
| Mike Cassidy | 03:56.40 |
| BJ Norris | 03:59.70 |
| Katie Harris | 04:01.90 |
| Michael Chambers | 04:04.40 |
| Lance Dingler | 04:07.00 |
| James Gill | 04:07.20 |
| Rob Tate | 04:09.70 |
| Joel Turner | 04:10.90 |
| Josh Knotts | 04:12.40 |
| David Hill | 04:16.20 |
| Chad Drewry | 04:21.10 |
| Rick Birdsall | 04:22.20 |
| Steve Wall | 04:32.80 |
| Jake Burki | 04:39.30 |
| John Beazley | 04:40.40 |
| Andrew Dreher | 04:44.00 |
| Tony Gimmellie | 04:45.90 |
| D. Seely | 04:55.00 |
| Mike Stephens | 04:57.10 |
| TK Martindill | 04:57.90 |
| Tyler Mccutcheon | 05:19.20 |
| Mark Roth | 05:21.80 |
| Dale Holder | 05:55.00 |
| William Nelson | 07:07.00 |