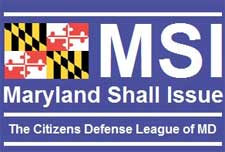 Maryland ––(Ammoland.com)- We expect that SB 281 will be amended this week and likely moved to the House floor for their consideration.
We have one last chance to get our voices heard before the House Judiciary Committee begins proposing and voting on amendments.
If you cannot make it to Annapolis, you must pick up the phone and call your Delegates. E-mails are NOT going to be enough. We ask that you focus primarily on members of the House Judiciary Committee and the Health and Government Operations Committee. Please be sure to thank our friends for their support. For those who remain on the fence, let them know that you will be there for them in 2014.
Due to Passover celebrations, Delegates will not be meeting past sun down.
Governor O'Malley was supposed to have signed the bill by now. He was supposed to have taken his victory lap. Our incredible and consistent response to the attack on our rights has changed the dynamic in Annapolis. The battle is not yet won, however. Some people in Annapolis expect us to go away quietly as the session enters its final days. Let us give them yet another reminder that we remain watchful and ready to spring into action.
We WILL NOT compromise. We WILL NOT willingly surrender our fundamental civil rights.
Maryland Shall Issue, Inc.
1332 Cape Saint Claire Road #342
Annapolis, Maryland 21409
240-446-6782
Mission Statement: Maryland Shall Issue is an all volunteer, non-partisan effort dedicated to the preservation and advancement of all gunowners' rights in Maryland, with a primary goal of CCW reform to allow all law-abiding citizens the right to carry a concealed weapon; and to the education of the community to the awareness that 'shall issue' laws have, in all cases, resulted in decreased rates of violent crime.