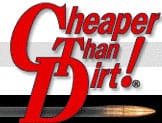 Fort Worth, Texas, USA –-(Ammoland.com)- Yesterday on the Cheaper Than Dirt! company blog "The Shooter's Log," we posted an article after interviewing Allen Gottlieb of the Second Amendment Foundation.
The title was 'I Support Toomey-Manchin and You Should Too.' We received a number of comments regarding the support of this legislation by Cheaper Than Dirt!
Nothing is further from the truth. The article was the opinion of Allen Gottlieb, and does not represent the opinion of Cheaper Than Dirt!
The mission of "The Shooter's Log" is to provide information, not opinions, to our customers and shooting community. Part of that mission is to present pending gun legislation—the good and the bad. We want our readers to be able to make informed decisions, and to do so requires knowing as much information as possible.
The information provided does not represent the views of Cheaper Than Dirt!
Cheaper Than Dirt! fully supports the Second Amendment and the responsible use of firearms. In 2013 alone, Cheaper Than Dirt! has donated or raised nearly $2,000,000 in support of the Second Amendment.
Cheaper Than Dirt! prides itself on being America's Ultimate Shooting Sports Discounter since 1993. Cheaper Than Dirt! boasts over 100,000 items available for purchase through their website and catalog. Articles, photos and videos appear daily on the Shooter's Log at www.CheaperThanDirt.com/blog.