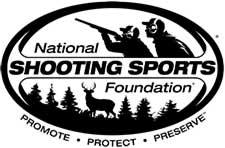 NEWTOWN, Conn –-(Ammoland.com)- The National Shooting Sports Foundation (NSSF), the trade association for the firearms, ammunition, hunting and shooting sports industry, honored Sen. Lindsey Graham (R-S.C.) as NSSF's 2012 Legislator of the Year at the organization's annual dinner this evening in Washington, D.C., preceding the firearms industry's annual Congressional Fly-In.
"Because of Sen. Graham's distinguished record of bipartisan leadership in the United States Senate in supporting our hunting and shooting sports traditions and for his steadfast defense of our Second Amendment rights over several years we are pleased to present him with 2012 NSSF's Legislator of the Year Award," said Lawrence G. Keane, NSSF Senior Vice President and General Counsel. "Sen. Graham again demonstrated his well-regarded leadership by introducing the NICS Reporting Improvement Act of 2013 to require that state records of those adjudicated as mentally incompetent be reported to the National Instant Criminal Background Check System (NICS) used by federal licensed firearms retailers to determine the legal suitability of firearms purchases."

"Sen. Graham's work to advance the NICS Reporting Improvement Act represents his practical approach to making our society safer by strengthening the reporting process of mental health records so that those who should not have access to firearms are prohibited from purchasing them. Fixing NICS has been a long-standing goal of our industry," Keane said.
A long-time shooting sports enthusiast, Sen. Graham has told the news media on several occasions that he owns a modern sporting rifle, so has played a role in helping to dispel myths about their legitimate use by millions of Americans for hunting, target shooting and self-defense. He has also co-sponsored concealed carry reciprocity legislation indicating his support for American's Constitutional right to keep and bear arms.
About NSSF
The National Shooting Sports Foundation is the trade association for the firearms industry. Its mission is to promote, protect and preserve hunting and the shooting sports. Formed in 1961, NSSF has a membership of more than 8,000 manufacturers, distributors, firearms retailers, shooting ranges, sportsmen's organizations and publishers. For more information, log on to www.nssf.org.