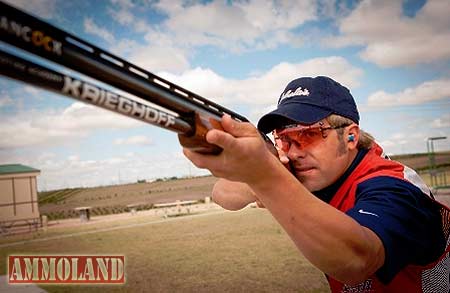 COLORADO SPRINGS, Colo. –-(Ammoland.com)- The International Shooting Sport Federation (ISSF) World Cup series rolls into Al Ain, United Arab Emirates (UAE), this week featuring 344 shotgun athletes from 50 countries.
Among them is a strong U.S. contingent that features 2008 Olympic gold medalist Glenn Eller (USAMU/Houston, Texas) and his London Olympic teammate Frank Thompson (Alliance, Neb.).
Competition will begin April 17 from the Al Ain Equestrian, Shooting & Golf Club. In all, 12 USA Shooting athletes will compete and includes a mix of Olympic and veteran talent along with junior athletes that stood out at the 2012 Fall Selection Match in Kerrville, Texas.
The USA Shooting Team has started 2013 on a positive note having captured four World Cup medals including gold, two silvers and a bronze. Three of the four medals were earned in the season's opening World Cup in Acapulco, where Vincent Hancock (skeet/Eatonton, Ga.), Brian Burrows (trap/Fallbrook, Calif.) and Ian Rupert (double trap/) earned gold, silver and bronze respectively. The USA's other silver medal came last week when Michael McPhail (Darlington, Wis.) gathered one at the Changwon World Cup in Korea that featured just three U.S. athletes in a Rifle/Pistol event.
There's no better way to remove an unsavory moment from memory than to get back to what you love and that's exactly what Eller hopes he can do by stepping onto a competitive stage again to erase the 2012 Olympic Games from his memory. Eller's double trap shooting event has undergone a major overhaul with new rules and format and he's been busy implementing a new plan of attack.
"I'm excited to get out and compete on a world stage again after London," said Eller. "The new rules have allowed me to go back to the drawing board with my game and I can't wait to test it against the rest of the world."
From 2000-08, Eller was arguably the best double-trap shooter in the world as witnessed by 13 World Cup and World Championship medals along with his gold-medal triumph at the Olympic Games in Beijing. Since Beijing, he's been on the podium just once, recording a bronze medal at the 2011 World Championships.
Eller brings along with him U.S. Army Marksmanship Unit (USAMU) teammate Derek Haldeman (Sunbury, Ohio) and 18-year-old Christian Wilkoski (Centerburg, Ohio) to compete in the Double Trap event.
Thompson had a promising eighth-place finish in London and will look to put that confidence to use in winning his first World Cup medal next week.
"I have made a couple of tweaks to my overall shooting," said Thompson. "I've been working hard getting ready for this World Cup. I am excited for the chance to compete and see how my training is working. I am ready to shoo t my best and see my friends from other parts of the world."
Competing alongside Thompson will be T.J. Bayer (College Station, Texas) who finished third behind Hancock and Thompson at the 2012 Fall Selection Match. Shooting for Texas A&M University, Bayer helped lead his squad to a second-place finish in the International Skeet event at the recently completed ACUI Collegiate Clay Target Championships. Bayer's Texas A&M teammate is skeet specialist Brandy Drozd (Bryan, Texas) and she's set to compete in the women's World Cup event. Drozd earned her first career World Cup medal (bronze) last spring at the Tucson World Cup as three U.S. women finished in the top-four spots. Drozd has been honing her game on the collegiate circuit as well and won the International Skeet event at ACUI Collegiate Clay Target Championships.
In addition, Caitlin Connor (Winnfield, La.) will compete as well after winning the International Shoot-out event of the ACUIs over Drozd earlier this month. The National Team athlete has medaled in each of the last four USA Shooting National Championships dating back to 2009. Her consistency in ISSF events has been impressive too having been a finals competitor (top-7) in 10 of the 12 events over her career including World Cups, World Cup Finals and World Championships.
Men's and women's trap will feature five up-and-coming talents for Team USA. Four of them also benefit from their experience at the ACUI Championships as Bradley Beckmann (Chesterfield, Mo.) and Erin Danhausen (Swartz Creek, Mich.) each earned hardware at that event. Beckmann collected a gold in the Men's International Trap event competing for national powerhouse Lindenwood University, while Danhausen finished third competing for Bethel University in St. Paul, Minn. Both them and Kimberly Bowers (Lafayette, Calif.) will all be wearing colors of a grander stature this time around as they are competing for Team USA in their first-ever World Cup event.
Helping lead them into their first World Cup test will be Matt Gossett (Springville, Ala.) and Jake Wallace (Castiac, Calif.). Gossett's been the top junior shooter at both the Fall Selection match and 2012 USA Shooting National Championships. Wallace finished his senior year at Lindenwood last Fall and has since become a resident athlete at the U.S. Olympic Training Center in Colorado Springs, Colo. Gossett, Wallace and the rest of the U.S. Men's Trap enter every competition with something to prove after having not qualified an Olympic spot in 2012.
"I've been reworking some things in my training that I'm excited to try at the World Cup," said Gossett. The U.S. Men's Trap team has been dedicated to re-establishing ourselves on the world stage and I'm looking forward to putting an exclamation point onto the Brian Burrows' statement he made at the World Cup in Acapulco."
The new ISSF rule changes have brought about the most extensive set of modifications in the sports history while implementing a completely new Finals format. After the qualification rounds, which are conducted under the old rules, the top-six shooters advance to a semifinal-a new competition stage. The qualification score is not carried forward as all the semifinalists start from zero.
Semifinalists now compete on a reduced number of stations and targets. After the semifinals, the top two advance to the gold medal match, dueling for the highest step of the podium. On the other side, the third and fourth ranked semifinalists enter the bronze medal match, fighting for third position.
Specifically, the Trap event will have semifinalists and medal-match contenders competing on stations 2-4, for a total of 15 targets. The same applies to Double Trap, on 15 doubles (30 targets). Skeet semi-finalists and finalists will compete on stations 3, 4, 5 and then back to 4, shooting a double and a reverse double at each station, for a total of 16 targets.
The new rules push even greater drama on the final stages. The ISSF feels that the changes make medal decisions easier to understand, thus enhancing the viewing excitement for both spectators and TV audience.
The USA Shooting Shotgun Team, under the direction of National Team Head Coach Todd Graves, have spent the fall and winter extensively preparing for World Cup competition and the new rules and those efforts paid off in Acapulco.
USA Shooting athletes have attended preparatory and developmental training camps in Puerto Rico, Mexico and Ft. Benning since December. The camps focused on skill development with an introduction to the new shooting rules, all in warm-weather training environments. Coaching instruction was provided by Graves and Assistant National Team coaches Dwayne Weger, Jay Waldron and Tommy Lynn Browning.
USA Shooting Team – UAE World Cup (April 17-23)
Trap (Men, April 17-18; Women, April 17)
Bradley Beckmann (Chesterfield, Mo.)

Kimberly Bowers (Lafayette, Calif.)

Erin Danhausen (Swartz Creek, Mich.)

Matt Gossett (Springville, Ala.)

Jake Wallace (Castiac, Calif.)
Double Trap (April 20)
Glenn Eller (Houston, Texas)

Derek Haldeman (Sunbury, Ohio)

Christian Wilkoski (Centerburg, Ohio)
Skeet (Men, April 22-23; Women, April 22)
T.J. Bayer (College Station, Texas)

Brandy Drozd (Bryan, Texas)

Frank Thompson (Alliance, Neb.)
About USA Shooting:
USA Shooting, a 501c3 non-profit corporation, was chartered by the United States Olympic Committee as the National Governing Body for the sport of shooting in April 1995. USA Shooting's mission is to prepare American athletes to win Olympic medals, promote the shooting sports throughout the U.S. and govern the conduct of international shooting in the country. Check us out on the web at www.usashooting.org and on Twitter at twitter.com/USAShooting.