Benchmade CEO Les DeAsis Challenges Fellow Knifemakers to "Step Up" and Support Knife Rights.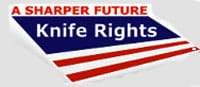 Gilbert, AZ –-(Ammoland.com)- Knife Rights is pleased to announce that Les and Roberta DeAsis, founders and owners of Benchmade Knife Company, are the recipients of Knife Rights' 2013 Freedom's Guardian Award which was presented during BLADE Show in Atlanta, Georgia.
Benchmade CEO Les DeAsis challenges his colleagues to "step up" and support Knife Rights
Upon receiving the award, Mr. DeAsis challenged his colleagues in the knife industry to support Knife Rights, saying:
"We need to protect our future. Our needs and desires are all aligned. The money is a small price to pay for protection of our future, our children, our employees, our friends…it is absolutely critical that we step up."

"The bottom line is that I ask everybody to reach into your hearts, reach into your conscience, then reach into your wallets and make this go. Doug is working his tail off. He is committed, they are successful. There is absolutely no excuse for those people in this room and this industry not to support this organization because they are insuring that we can continue to do what we love to do… It is ensuring the future of this industry. It is critical that you stand up, that you reach into your pockets. Join Benchmade in supporting Knife Rights."
View the video of Mr. DeAsis' complete remarks at: http://youtu.be/dz7qXAb4dR4
Knife Rights' annual Freedom's Guardian award honors a production knife manufacturer or industry partner that has demonstrated their commitment to a Sharper Future by their support of the fight to protect or enhance our knife rights.
Knife Rights Founder and Chairman Doug Ritter said:
"Les and Roberta are being recognized for their leadership in support of Knife Rights. Since I first broached the concept of Knife Rights, Les and Roberta have been supportive of my efforts and have continued to generously support us through thick and thin. When Knife Rights initially proposed filing its Federal Civil Rights lawsuit against New York City and District Attorney Cyrus Vance, Jr., Les led the way by committing to our top level Platinum pledge to the Sharper Future Legal Fund on the first conference call. Having completed that pledge, Les was the first to roll that substantial monthly pledge over to support the Sharper Future Legislative Fund. Benchmade's leadership has been critical to Knife Rights' extraordinary success."

"Knife Rights success in passing 13 pro-knife bills and defeating four anti-knife bills in just five years is in part due to the industry support we have received. We sincerely appreciate those in industry, like Benchmade, who have helped us to create a Sharper Future for our members–their customers. This award is a way to publicly acknowledge and honor these guardians of our freedoms," said Ritter.
About:
Knife Rights (www.KnifeRights.org) is America's Grassroots Knife Owners Organization, working towards a Sharper Future for all knife owners. Knife Rights is dedicated to providing knife owners an effective voice in public policy. Become a Knife Rights member and make a contribution to support the fight for your knife rights. Visit www.kniferights.org