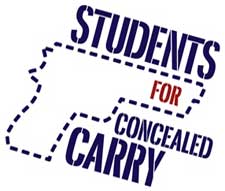 Texas –-(Ammoland.com)- Today marked the beginning of the third special session of the Texas legislature.
While previous special sessions have focused on controversial measures, the third special session has been called to primary to address transportation funding.
Yet despite the willingness of the Governor during the previous special sessions to focus on potentially contentious issues, the Governor's support for firearms rights restoration is nowhere to be seen.
Governor Perry first stated almost 2300 days ago that he supported licensed concealed carry on Texas college campuses, and he reaffirmed that position as recently as January 22 of this year. However, extending the rights of persons who have already been licensed to carry in Texas and proven themselves to be responsible citizens everywhere else they travel to be afforded meaningful self defense options while visiting learning on, and working at Texas' excellent institutions of higher learning has been notably absent from the Governor's agenda, despite two previous special sessions which afforded him clear opportunity to act.
This third special session represents perhaps the last and best chance for Governor Perry to provide meaningful action behind his previous statements of support. Since Governor Perry has announced his intention not to seek further political office immediately upon the expiration of his current term, there is no clear political impediment that would prevent strong action. Governor Perry's willingness to stand behind other controversial issues during this year's special sessions shows his ability and resolve to fight for what he believes is right.
In this light, now is the time for the Governor and Texas to act. It is clear the legislature has the willingness to act and only requires strong leadership to make this a reality during this third special session. With the recent actions of many other states who have passed meaningful firearms protections acts this year, including perhaps most notably Kansas which has extended carry rights to college campuses by no later than 2017, the pathway forward is clear.
Texas is currently being outpaced in the area of firearms rights by many of its sister states. As countless firearms companies leave gun unfriendly states and look for new homes, Texas can show itself to be serious about business rights and firearms rights alike by further clear and immediate action.
We encourage all interested citizens to contact Governor Perry and ask him to add campus carry to the special session legislative agenda. Governor Perry can be reach via phone at (512) 463-1782, via fax at (512) 463-5571, and via the web at https://governor.state.tx.us/contact/contact.aspx.
Additional information about SCC available at concealedcampus.org
Additional information about Texas SCC available at texas.concealedcampus.org
ABOUT:
Students for Concealed Carry is a national, non-partisan, grassroots organization comprised of over 40,000 supporters which advocates for legal concealed carry on college campuses.