Chris Andersen, 3-Gun Nation Pro Shooter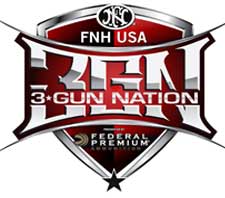 USA –-(Ammoland.com)- 3-Gun is complicated.
Different stages, three different guns, multiple types of ammunition, belt setups, holsters, shell caddies… the list can be endless. It can also be confusing and even a little intimidating to a new shooter.
I rarely see someone shooting their first 3-gun match that doesn't misplace a magazine, or other piece of equipment because they are overwhelmed by all of the gear needed to play.
Keeping that gear simple and as organized as possible is very important. Misplaced equipment can be very stressful, especially when it is getting close to time to shoot. And that can keep you from performing at your best.
Staying prepared and well organized will make you a better shooter. If you are 100% certain in your preparation, your execution will be better as well.
Keep it simple
When you start shooting matches, do your best to resist the urge to stock up on equipment and use what you already have. A lot of new shooters make the mistake of spending lots of money on gear right up front only to find that it does nothing but take up space in their bag after they end up not liking it, or realizing they didn't need it in the first place. Starting with a minimalist approach makes organization easier. It also keeps you in tune with the things you really need to compete. Only start adding gear to your 3-Gun kit when a need for it shows itself.
Take an inventory and find a place for everything
Once you are tune with the equipment you need, start organizing. A good inventory of your gear will allow you to allot a place for each piece of gear in your range bag. Once you have your gear set, and a place for each item make sure to stick with that arrangement. It makes it easer to do everything from packing for a trip, to get ready to shoot your next stage, or even unpack your bags when you get home. Putting everything back the same way each time also insures that your stuff doesn't get misplaced.
Develop a routine and follow it religiously
Before leaving for a match I lay everything out as it goes in my bag, vehicle, or flight case to make sure that I have everything I need. An empty pocket in my gun bag means that I need to verify that the item is that is missing is back in place before traveling to the match. I take that ritual all the way up to when it is time to shoot.
Do a pre-flight check
Not unlike a pilot preparing for take-off, develop a routine for getting ready when it is your turn to shoot. Once you know which gear and ammunition that you need to shoot a particular stage. Retrieve it early, in plenty of time to be ready when it is your turn to shoot, and set everything up in the same way each time. Your magazines are loaded and sitting in the same place in your bag, your shotgun is preloaded and staged in the same way etc. When you are the on-deck shooter, check your belt, make sure everything is in its place and secure as you visualize your stage plan. That way when it is time to shoot, you can begin stress free, without worrying about where you left something or if you have everything you need When you know everything is in place all you have to do is execute your plan.
3- Gun is full of unknowns and unique challenges at every turn. That is part of what makes it great. Staying organized means keeping the unknowns to a minimum and allows you go out, totally prepared, and perform at your best. And getting the car unpacked a lot easier when you return home is just a bonus!
For more information, visit www.3gunnation.com.