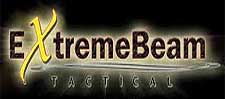 USA –-(Ammoland.com)-  Alpha-TAC's ExtremeBeam has brought unmatched lighting power and craftsmanship to the tactical light market, and the company continues to bring innovative products to the forefront with the release of its Metal Molle modular attachment.
Initially designed to meet the demands of European firefighters and the harsh conditions they face, the Metal Molle ( http://tiny.cc/7pyz4w ) is the world's first modular molle system transforming the 290-lumen ExtremeBeam XT8 flashlight into a hands-free angled light with up to 720 feet of projection and three flexible usage settings. It is machined from solid bar-stock aluminum and features dual shock pins for additional durability.
Whether users are soldiers, firefighters, law-enforcement officers, hunters, or hikers, the
uses for the Metal Molle are limitless. It is also the perfect accessory for those with wrist dexterity
problems as it allows them to perform traditional flashlight tactical maneuvers not possible with a straight-bodied light.
The MSRP for the Metal Molle is $29.95 and it comes with a limited lifetime warranty that even covers destruction.
Alpha-TAC's ExtremeBeam is committed to providing the best sport, tactical, and industrial lighting products available on the market. Superior engineering and craftsmanship allow them to outperform and outshine other premium hard-use lighting products of the same class. For more information about ExtremeBeam and its complete line of products visit www.extremebeam.com.
ExtremeBeam – A Shining Light in the Face of Darkness