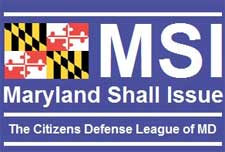 Maryland ––(Ammoland.com)- Maryland Shall Issue, Inc., Associated Gun Clubs of Baltimore, Inc., Maryland Licensed Firearms Dealers Association, Maryland State Rifle and Pistol Association, National Shooting Sports Foundation, and several firearms dealers and individual Maryland citizens, filed legal challenges to the ban on semi-automatic rifles and standard magazines, as well as the implementation of the Handgun Qualification License (HQL) requirement that took effect October 1, 2013.
In the first lawsuit, the plaintiffs attorney, Sky Woodward, argued that weapons ban and magazine limits, would prevent the plaintiffs from choosing firearms needed to protect themselves. Also argued was that the 45 types of semi-automatic rifles banned in the new law are most often used by home and business owners for self-protection. It was also pointed out that "The limit of 10 rounds makes existing guns useless since manufacturers do not sell 10 round magazines."
In the second lawsuit, the plaintiffs asked the judge for permission to halt the handgun licensing requirement for 90 days. The new law requires handgun buyers to submit fingerprints to the Maryland State Police. With the considerable backlog of gun applications under the old law, there is no guarantee they would act on these applications under the new law.
U. S. District Court Judge Catherine Blake has denied a request to delay the Firearm Safety Act of 2013 and the Handgun Qualification License (HQL) requirement from taking effect.
In her ruling on October 1, 2013, the federal judge declined to issue a temporary restraining order, but urged the parties to move forward quickly towards a full hearing on the merits of the challenges. Attorneys are scheduled to meet today to discuss a hearing date for a preliminary injunction filed by the plaintiffs. A scheduling meeting is also planned for October 10th. Maryland Shall Issue will keep you informed on the progress of our legal efforts to restore Second Amendment rights in Maryland.
Maryland Shall Issue, Inc.
1332 Cape Saint Claire Road #342
Annapolis, Maryland 21409
240-446-6782
Mission Statement: Maryland Shall Issue is an all volunteer, non-partisan effort dedicated to the preservation and advancement of all gunowners' rights in Maryland, with a primary goal of CCW reform to allow all law-abiding citizens the right to carry a concealed weapon; and to the education of the community to the awareness that 'shall issue' laws have, in all cases, resulted in decreased rates of violent crime.