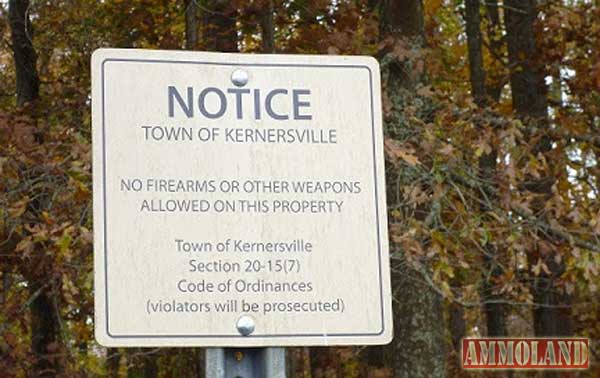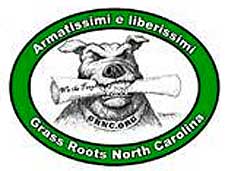 North Carolina –-(Ammoland.com)-However reluctantly, Winston-Salem, Raleigh and others have fallen into line with the state law that prohibits local governments from restricting concealed carry in parks.
After having the law explained to them, and faced with lawsuits for being out of compliance, these locales are removing or appropriately amending signs that had illegally banned guns.
Grass Roots North Carolina (GRNC) and its supporters, along with its sister organization, Rights Watch International, applied the heat, and the local politicians saw the light.
With this, one would think that other local governments would now have a better understanding of the new statutes and what is required to bring their local jurisdictions "up to code." Yet, it appears that seeing is not believing for leadership in some towns, so yet again, it looks like heat must be applied.
Elected leadership in Kernersville, NC have failed to make any effort to comply with new state laws regarding lawful concealed carry in parks. This is most likely because of misinformation received from Kernersville Town Attorney, John Wolfe, misinformation that has been repeated by the mayor.
Wolfe recently said:
"Remember that Kernersville does not put up signs at every intersection that say you can turn right on red. There are laws that say you can turn right. Where people are allowed by law to carry a weapon they should not need signage. People should be aware of the law."
Of course, by their logic, if Kernersville followed the parks example for traffic signs, it would have to mark all intersections "no right on red," regardless of whether it was actually legal, and list the ordinance number governing right turns. The result would be the same: Drivers would assume a right turn was prohibited.
So, while using false logic as a shield, Kernersville town leaders are refusing to remove signs like the one pictured below, even though these signs are clearly out of compliance with S.L. 2013-369. At best, these unlawfully posted signs are confusing to law-abiding park-goers, and at worst, they are intended to intimidate CHP-holders into believing a gun ban is in effect, when in fact, these signs are in locations where gun bans are illegal. In short, these signs are just as illegal as they are misleading!
The voters of Kernersville and the people of North Carolina should not stand for this sort of lawlessness from their elected officials. And as always, GRNC is ready to lead the charge to help yet another local government recognize its error, and lead it down the path to legitimacy.
Below, you can read the letter that GRNC President, F. Paul Valone, recently delivered to Kernersville Mayor, Dawn H. Morgan, admonishing her and other town leaders to bring Kernersville into compliance with state law.
Also below, you'll find contact information and a suggested message that you can use to contact the elected leaders of Kernersville, and let them know that gun owners are watching, and we are expecting them to remove these illegal signs, or face the legal consequences.
IMMEDIATE ACTION REQUIRED!
Phone Kernersville Town Aldermen and the Mayor. Tell them that illegal gun bans will not be tolerated. Let them know that you are familiar with state law, and it is wrong to post signs that needlessly confuse the public and intimidate lawful gun owners. Demand that they bring Kernersville into compliance with state law, or face the legal consequences, consequences that you will fully support.
E-mail Kernersville Town Aldermen, the Mayor, and the Town Attorney. Use the suggested e-mail message provided below to let Kernersville elected leadership know that they are acting outside the law by posting gun-ban signs in parks. Below you'll also find a copy-paste e-mail list that you can use to deliver this message.
Attend the Board of Aldermen Meeting on Tuesday, January 7th, at 7:00 PM. Attend this meeting to insist that Kernersville comply with state law and remove the illegal gun-ban signs. At this time, the agenda for the meeting is unknown, so there may or may not be an opportunity to speak. If speaking out is not an option, you can still wear a "Guns Save Lives" sticker in the meeting to let the aldermen know why you're there. You can get your sticker near the entrance, from a GRNC volunteer. More meeting details below.
Please contribute to help Rights Watch International (RWI) fight for your rights. Click here or go to: http://rightswatch.org/donate
RWI takes on the legal battles that are required to protect the rights of gun owners like you. Financial support to win these battles is needed. Any contribution will help, and all are greatly appreciated.
Board of Aldermen Meeting Details:
When: Tuesday, January 7, 2014; 7:00 PM
Where: Council Chambers
Kernersville Municipal Building
134 E. Mountain St.
Kernersville, NC 27284
CONTACT INFO
Phone Numbers:
Mayor Dawn H. Morgan:
336-996-5949 or
336-407-3082
Alderman Kenny Crews: 336-993-6735
Alderman Keith Hooker: 336-817-6739
Alderman Irving Neal: 336-416-3437 or
336-993-5425
Alderman Joe L. Pinnix Jr.: 336-978-9004
Alderman Tracey H. Shifflette: 336-312-6752 or
336-996-4049
Copy-Paste E-mail List:
[email protected]; [email protected]; [email protected]; [email protected]; [email protected]; [email protected]
It appears that the e-mail address for Alderman Kenny Crews ([email protected]) is not functioning. Alternatively, Alderman Crews can be mailed at the following address:
513 N. Main Street
Kernersville NC 27284
DELIVER THIS MESSAGE
Suggested Subject: "Remove Illegal Signs from Kernersville Parks"
Dear Mayor Morgan, Town Aldermen and Mr. Wolfe,

I have recently been informed that Kernersville is leaving in place signs that ban guns from city parks. Per S.L. 2013-369, which took effect on October 1, 2013, these signs are no longer in compliance with state law. Aside from a few very specific exceptions, local governments are not permitted to restrict lawfully carried concealed handguns in parks. The signs in question are not only unlawful, but they also appear to represent an effort by elected town leaders to confuse the issue, and perhaps even intimidate law-abiding gun owners. This is not acceptable.

I insist that you, the elected leaders of Kernersville, have these signs removed in order to bring Kernersville into compliance with the law. I understand that failure to do so will likely bring legal action upon Kernersville. Any legal battle surrounding this issue is one that will be very costly to Kernersville, and it is a battle that the town cannot win. If reason does not prevail, and legal action is indeed necessary to bring the town into compliance with state law, I will fully support that action in any way I can.

Please do what is right to bring Kernersville into compliance with the law. Remove the illegal signs.

I will continue to monitor your actions on this issue via alerts from Grass Roots North Carolina.

Respectfully,
F. PAUL VALONE'S LETTER TO THE MAYOR OF KERNERSVILLE NC
December 23, 2013

The Honorable Dawn Morgan, Mayor
134 East Main Street
Kernersville, NC 27284

Dear Mayor Morgan:

In its 2011-2012 Session, the North Carolina General Assembly passed House Bill 650 (S.L. 2011-268), which restricted the ability of municipalities to prohibit the lawful carry of concealed handguns in parks to a limited number of "recreational facilities." In 2013, the legislature passed House Bill 937 (S.L. 2013-369), which further narrowed the definition of recreational facilities as follows:

(c) For purposes of this section, the term "recreational facilities" includes only the
following: a playground, an athletic field, a swimming pool, and an athletic facility.
(1) An athletic field, including any appurtenant facilities such as restrooms, during an organized athletic event if the field had been scheduled for use with the municipality or county office responsible for operation of the park or recreational area.
(2) A swimming pool, including any appurtenant facilities used for dressing, storage of personal items, or other uses relating to the swimming pool.
(3) A facility used for athletic events, including, but not limited to, a gymnasium.
(d) For the purposes of this section, the term "recreational facilities" does not include any greenway, designated biking or walking path, an area that is customarily used as a walkway or bike path although not specifically designated for such use, open areas or fields where athletic events may occur unless the area qualifies as an "athletic field" pursuant to subdivision (1) of subsection (c) of this section, and any other area that is not specifically described in subsection (c) of this section.

On numerous occasions during the last several months local GRNC members and one GRNC board member have reached out to elected officials asking Kernersville comply with state law. According to town alderman Irving Neal, both the town manager and town attorney believe "the current signage complies with state law". It does not and the signage is clearly in violation of S.L. 2013-369. Town attorney John Wolfe has repeatedly misinformed town aldermen and town manager that the signs comply with state law. As evidenced by the included photo, however, Kernersville has made no effort to comply with state law.

Recently, the City of Winston-Salem refused to obey state law until GRNC's sister organization Rights Watch International initiated legal action. The city has recently conceded and is in the process of correcting their signage. The City of Raleigh also decided to comply by removing "no firearms" signs under the promise of litigation. The town of Kernersville is in the process of repeating the mistake of Winston-Salem by refusing to comply with state law. GRNC cannot and will not allow Kernersville's non compliance to go unchallenged.

The imposition of a local gun law or regulation more stringent that state law is a violation of § 14-409.40 (statewide uniformity of local regulation") and § 14-415.23 (statewide uniformity of concealed handgun laws). Whether or not Kernersville wants to remove or replace signs prohibiting lawful concealed carry in parks is irrelevant. If you do not remove the signs, legal action will follow. Please note that under § 6-21.7 ("Attorneys' fees; cities or counties acting outside the scope of their authority"), we will also seek to recover associated legal fees.

I can be reached directly [by phone]. To prevent further action, I look forward to your prompt reply within five (5) business days.

Respectfully,

F. Paul Valone
President, Grass Roots North Carolina
Executive Director, Rights Watch International
About:Grass Roots North Carolina is an all-volunteer organization dedicated to preserving the freedoms guaranteed us by the Bill of Rights. Our main focus is the right to keep and bear arms. GRNC was central to drafting and passing North Carolina's concealed handgun law and since that time has continued to push for improvements to gun laws. Visit:www.grnc.org