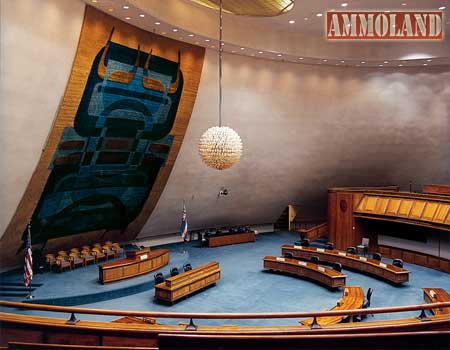 Charlotte, NC –-(Ammoland.com)- Recently, the 2014 Hawaii Legislature convened in Honolulu.  As the legislative session gets going, the NRA is working hard to further and protect your Second Amendment rights.
There are several bills which were carried over from the 2013 session and a number of newly introduced bills, both pro-gun and anti-gun.  A particularly egregious bill, introduced by state Senator Josh Green (D-3), Senate Bill 2957, would require an individual to obtain their primary physician's or psychiatrist's clearance before they are able to exercise their Second Amendment right.
On the calendar for tomorrow in the House Committee on Water & Land is House Bill 1907.  HB 1907, introduced by state Representative Cindy Evans (D-7), would create a lifetime hunting license for disabled military veterans and recipients of a Purple Heart.  This is a great opportunity to give back to those veterans who have sacrificed so much for our country.  Please contact members of the House Committee on Water and Land and respectfully urge them to support House Bill 1907.  Contact information for the House Committee on Water and Land can be found here.
Be assured that your NRA is diligently monitoring all firearm legislation being introduced and carried over to provide you with the information you need as a gun owner and sportsman to protect your Second Amendment rights.  Your NRA-ILA will continue to keep you updated on this legislation as well as other measures that affect you this year.  Please continue to check your e-mail and www.NRAILA.org  for further updates.
About:
Established in 1975, the Institute for Legislative Action (ILA) is the "lobbying" arm of the National Rifle Association of America. ILA is responsible for preserving the right of all law-abiding individuals in the legislative, political, and legal arenas, to purchase, possess and use firearms for legitimate purposes as guaranteed by the Second Amendment to the U.S. Constitution. Visit: www.nra.org