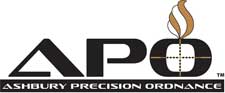 Ruckersville, VA.-(Ammoland.com)- – New for 2014, Ashbury Precision Ordnance Mfg (APO) introduces two new short and long action SABER-FORSST modular rifle chassis systems (MRCS) for popular Savage Arms Models 10FCP and 110BA rifles chambered in .308Win, .300 Winchester Magnum and .338 Lapua Magnum.
The new SABER chassis models utilize Ashbury's patented modular rifle chassis designs, and are being manufactured in Composite series Sporter, and Alloy series MOD-0 and MOD-1 configurations with enhanced shoot-ability, modern styling, and high accuracy performance!  APO introduced its first Savage chassis model the SVL-A2 MOD-1 Carbon Fiber series that featured a 10rd magazine for the 110BA in .338LM back in 2011.
Ashbury's patented modular designs for the Savage SVS-A3 (short action) and SVL-A1 (extra long action) offer Savage rifle enthusiasts many standard features that either don't exist, or are costly options on traditional rifle stocks and other chassis.  There's no lengthy and expensive glass bedding or bottom metal fitting needed…ever!  Shooters can now easily maintain, reconfigure and even upgrade their Savage rifles using SABER® MRCS with simple hand tools.  Using the SABER SVS and SVL, no gunsmithing is necessary to take advantage of inherently accurate factory made or custom built Savage rifles.  A wide variety of common SABER® accessories are also available including shoulder stock joints, accessory rails, grip angle adapters, forends and a rugged folding rear monopod that's height adjustable.
SVS-A3 and SVL-A1 MRCS shoulder stocks feature ergonomically adjustable cheek piece height, length of pull, and recoil pad drop, utilizing a tool or tool-less design with either a fixed or folding hinge.  The Savage model SABER® MRCS has adjustable grip-to-trigger distance, variable angle Ergo® hand grips, detachable AICS type 5rd or 10rd magazines, and an ambidextrous paddle lever magazine release.  Multiple free floating forend options are available for sporting, target, competition and tactical shooting.  Ashbury's signature MOD-1 monolithic rail design available for both the Savage short action (20MOA) and long action (30MOA) models enhances long range accuracy and accommodates in-line clip-on night vision devices increasingly popular with nighttime varmint hunters.
Engineered with accuracy, shooter comfort and low recoil in mind, the SABER® MRCS uses a premium Limbsaver® recoil pad that tames recoil from the big magnums.  SVS-A3 and SVL-A1 MRCS with the Alloy Series Quattro forend have eight integral flush cup sling swivel attachment points along the length of the chassis and utilize aviation grade anti-vibration fasteners throughout the platform including the action screws.  The SVS Sporter with a more traditional open top composite forend features two studs in the forend for simultaneous use of a bipod and sling.
Ashbury now manufactures thirty four SABER®-FORSST® MRCS models for many popular factory and custom bolt action rifles in calibers from .223 to .50BMG.  Later in 2014 the Savage SVS-A3 will be available that are compatible with Savages trigger guard bottom bolt release.
SABER® MRCS significantly reduce felt recoil, across the entire range of small, medium and large calibers.  APO continues to improve the bolt action rifle shooting experience by continuously focusing on advanced engineering, accuracy, ergonomics, shooter comfort and modern sporting arms styling!  The lightweight, well balanced SVS-A3 and SVL-A1 MRCS are competitively priced from $995 to $1,635 MSRP completely ready to go, out of the box.  Backed with a 1 year Limited Warranty, high quality APO products are available from an ever growing APO dealer network both in the USA and abroad.
During the 2014 SHOT Show in the Law Enforcement section Level 2 Titian Ballroom in booth #31407, APO will be displaying the complete SABER® MRCS product line for Savage rifles used for tactical law enforcement, target and multi-sport shooting.  Exciting highlights from APO's 2013 SHOT Show can be viewed here.  For more information about Ashbury Precision Ordnance Mfg., SABER®-FORSST® Modular Rifle Chassis Systems and precision long range shooting equipment, please visit the Ashbury Precision Ordnance Mfg website or shop our on-line store The Armory.
About Ashbury…
Ashbury International Group, Inc. is a central Virginia USA based company, having more than 18 years of international experience as a prime contractor to government agencies, military, and special operations forces as well as manufacturer of commercial shooting sports equipment.  The company provides logistics, engineering, training, ordnance manufacturing, systems integration and emergency preparedness products and services.
Ashbury Precision Ordnance Mfg.  (APO), a division of the Ashbury International Group Inc. is a BATFE licensed 07/11/SOT firearms manufacturer.  APO manufactures the patented SABER-FORSST modular rifle chassis system for small, medium and large caliber bolt action factory and custom rifles.  APO manufactures custom Asymmetric Warrior® (ASW) Precision Tactical Rifles, TCR-Tactical Competition Rifles, and SABER Enhanced Factory Rifles (S.E.F.R). Calibers include .223 Rem, .260 Rem, 6.5 Creedmoor, .308Win, .300WM, .338NM, .338LM, .375CT and .50 BMG.
Additionally, APO manufactures high quality rugged electro-optical weapon mounts and TACT3 tactical field tripods. APO also distributes a selection of long range shooting accessories to include Field Firing Solutions (FFS) ballistic software, Long Range Accuracy Bipods, Sniper's Field Tool Kits as well as Vectronix laser range finders, thermal imagers and night vision devices.
The Rapid Product Development Center (RPDC) provides engineering design and prototyping services. The engineering services group is Solidworks® CAD based with Cosmos® FEA and FeatureCam® CAD/CAM machine programming software, 3D Printer-Fuse Deposition Modeling (FDM) capable, a modern CNC precision machining shop and an experienced, well trained staff.