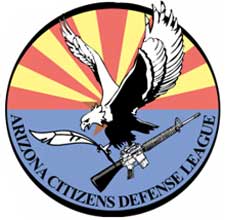 Catalina, AZ –-(Ammoland.com)- You are invited to join Arizona Citizens Defense League on our fifth annual trek to Front Sight's Nevada facility for a 4 day Defensive Handgun class that runs from Friday, April 11 through Monday, April 14, 2014.
Following the 4 day class, for those interested, is a one day class on Tuesday April 15 that combined with the 4 day class meets the qualifications for the Nevada, Utah and Florida CCW permits.
Information about these classes can be found at Front Sight's website.
Don't let the "suggested retail" cost of the classes scare you. Not only are affordable course certificates available from AzCDL members and online sources such as eBay, all-inclusive Front Sight Diamond memberships, which allow you to attend all Front Sight classes as often as you want, are available at AzCDL's online store at a steeply discounted price (scroll to the bottom of the online store page).
Because Front Sight trains several thousand students every year, and the Spring months provide a better climate, classes and hotels fill up fast. Each student is expected to make their own course and hotel reservations. However, AzCDL has reserved a block of hotel rooms at a special rate for these classes, at the Saddle West hotel in Pahrump, about a 20 minute drive from Front Sight, and is working with Front Sight to ensure all AzCDL students are placed in the same class.
For more information about making your own class and hotel reservations please contact AzCDL Board member Duke Schechter, [email protected]
All AzCDL attendees will be given an AzCDL t-shirt to proudly wear at Front Sight. When contacting Duke, be sure to give him your t-shirt size.
To learn more about what to expect during your visit to Front Sight, along with information about gear to bring, ordering lunches, etc. please check out: www.frontsight.com/FirearmTraining/front-sight.asp.
AzCDL also maintains a Yahoo! discussion group for our Front Sight attendees' use. Feel free to join and post any questions or comments you may have about the upcoming classes.
See you at Front Sight!
These alerts are a project of the Arizona Citizens Defense League (AzCDL), an all-volunteer, non-profit, non-partisan grassroots organization.
AzCDL – Protecting Your Freedom .
Copyright © 2014 Arizona Citizens Defense League, Inc., all rights reserved.
About:Arizona Citizens Defense League believes that the emphasis of gun laws should be on criminal misuse and that law-abiding citizens should be able to own and carry firearms unaffected by unnecessary laws or regulations. AzCDL was founded by a group of local activists who recognized that a sustained, coordinated, statewide effort was critical to protecting and expanding the rights of law-abiding gun owners. As a like-minded coalition of activists, the AzCDL founders were instrumental in the successful passage of the first major improvement to Arizona's CCW (concealed carry) laws since they were instituted in 1994. Visit: www.azcdl.org