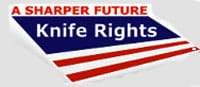 Washington, DC –-(Ammoland.com)-  Knife Rights is pleased to welcome American Knife and Tool Institute's (AKTI) support for Knife Rights' signature initiative — new federal legislation to protect the travels of law-abiding knife owners from a patchwork of conflicting local laws.
Conceived by Knife Rights in 2010, the recently-introduced legislation is the product of three years of groundbreaking work by Knife Rights. The Knife Owner's Protection Act (KOPA) is patterned after a federal law protecting the travels of law-abiding gun owners, but with significant improvements addressing decades of courtroom experience with that law.
"Knife Rights recruited top legal talent in the nation to draft and refine KOPA back in January, 2011," recalled Doug Ritter, Chairman and Founder of Knife Rights. "With contributions from knife owners and a donation from Becker Knife & Tool, we retained a team of dedicated professionals to get the job done from concept to bill introduction," continued Ritter. "KOPA was conceived as a compliment to Knife Rights' aggressive state law initiatives."

"We honed and refined literally dozens of drafts, with ongoing input from Second Amendment organizations that have decades of litigation experience with courts that have undermined the existing gun owner protection law," observed Ritter. "Only after we were satisfied that our proposed legislation would not be subject to the same vulnerabilities did we begin the painstaking process of recruiting bill sponsors on Capitol Hill. That process culminated in the successful introduction of House Bill H.R.3478 on November 13, 2013."

"Protecting knife owners is Knife Rights' only mission — one we have pursued vigorously at both the state and national level," said Ritter. "That's why Knife Rights is so pleased to welcome the knife industry trade organization AKTI's support of the Senate version of our legislation, Senate Bill S.1955, introduced on January 16, 2014."
ATKI has heralded the introduction of the Senate version of Knife Rights' federal initiative in a recent press release and newsletter.
Knife Rights welcomes AKTI's support and encourages other industry organizations and individual knife owners to support Knife Rights' work on this pioneering legislation as well. Donate to Knife Rights can be made at www.KnifeRights.org/Donate
A FAQ on KOPA with additional details and background can be found at: https://bit.ly/1arZIa0
ABOUT KNIFE RIGHTS
Knife Rights (www.KnifeRights.org) is America's grassroots knife owner organization, aggressively fighting for a Sharper Future™ for all knife owners. As the premiere organization of its kind, Knife Rights is dedicated to providing an effective voice for knife owners in the public policy arena. In the past four years Knife Rights has passed pro-knife legislation in 11 states and stopped anti-knife legislation in four states. Knife Rights is also lead plaintiff in a federal civil rights lawsuit challenging New York City's extreme persecution of knife owners. Knife Rights has filed pro-knife legislation in eight states so far in 2014.
Knife Rights continues to lead the way with aggressive proactive legislative action to defend and protect knife owners' rights. KOPA is just another example of our groundbreaking efforts to create a Sharper Future for all Americans.
For more information contact:
Doug Ritter Chairman
602-292-0997
[email protected]
Todd Rathner Director of Legislative Affairs
520-404-8096
[email protected]