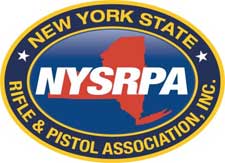 New York –-(Ammoland.com)- To All Putnam County Permit Holders/Non-Permit Holders:
Putnam County is being denied the right to protect our citizens from an unwarranted invasion of their personal privacy.
Warning, our worst nightmare has come true and you are in eminent danger of having your personal information disclosed to the media.
As you may be aware, The Journal News recently filed suit against Putnam County seeking this office to disclose the name and address of every pistol permit holder who did not file an Opt Out Form.
A decision was rendered recently by the Supreme Court of New York State with the Honorable Robert A. Neary, presiding, finding in favor of the plaintiff Gannett Satellite Information Network, Inc.
As we get this correspondence to you, Putnam County is preparing its appeal on behalf of all its citizens.
We are fighting the good fight on this and will do everything in our power to oppose this crusade by The Journal News to get their hands on your personal information. Lest we forget what The Journal News did the last time they obtained personal information. On December 23, 2013, they published an interactive map on its online news outlet, LoHud.com, identifying the names and addresses of people in Westchester and Rockland counties who legally possess pistol permits.
However, we desperately need your help. Please be sure to contact your New York State representatives and urge them to make the necessary changes to the New York State Penal Law so that your personal information remains confidential and receives that same confidential treatment on the county level as it does on the state level when housed by the New York State Police. Please use all resources that you have at your disposal (social media, blogs, letters to the media, family and friends in other states) to spread the word that this necessary change must be made to New York State law as soon as possible. Once again, we find ourselves in the eye of the storm; and, the eyes and ears of a nation are upon us.
Lastly, if you have not done so already, please remit the attached Opt Out form to this office as soon as possible. Currently, the only protection you may have from disclosure is to have an approved Opt Out form ( http://tiny.cc/t6micx ) in your permit file. The sooner you get this completed form back to our office, the sooner your personal information will remain confidential.
Contact Michael Bartolotti, 1st Deputy County Clerk, at 845-808-1142 Ext. 49303 to file your opt-out forms and with any questions or concerns you may have.
A call to action – all hands on deck!
About:
The New York State Rifle & Pistol Association is the state's largest and oldest firearms advocacy organization. Since 1871, our organization has been dedicated to the preservation of Second Amendment rights, firearm safety, education and training, and the shooting sports. Our membership consists of individuals and clubs throughout the state. We are a not-for-profit 501(c)4 organization and the official NRA-affiliated State Association in New York. Visit: www.nysrpa.org