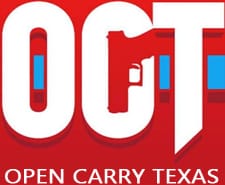 Temple, Texas –-(Ammoland.com)- Open Carry Texas President/CEO CJ Grisham officially challenging Moms Demand Action for Gun Sense in America founder Shannon Watts to a public debate on their Facebook page.
Watts' organization refuses to respond to valid counter arguments on their various websites and social media platforms (anyone with a contrary opinion or question is immediately banned) and they want to engage in a war of words in the media.
As such, Mr. Grisham desires to set the record straight without media filters and debate gun rights in Texas. The event will be live-streamed for the whole world to see.
With this invite, Mr. Grisham offers to make several concessions. Ms. Watts may choose the location for the debate anywhere within Texas. Open Carry Texas will pay for a realistically sized venue to host the debate. Whatever venue is chosen, we will set aside 50% of the seating capacity for MDA or "gun sense" supporters that want to attend. This ensures that OCT doesn't stack the venue with a room full of gun rights supporters. OCT members promise NOT to open carry at the event, however we will not pay for a location that prevents us from carrying our legally licensed and concealed firearms. In other words, no locations with 30.06 gun signs.
With this release, the onus is on Ms. Watts to respond to the challenge. As the leader of a "major gun rights organization" with millions of dollars at their disposal from billionaire supporters, Ms. Watts shouldn't have any trouble in a neutral environment arguing her organization's stance and criticisms of our efforts to pass legislation that respects the rights of Texans to keep and bear arms.
As an organization that doesn't have (nor need) millions of dollars, OCT won't have any problems responding to those criticisms and exposing the fallacy in their efforts. OCT is willing to put what little money we have where our mouth is.
Will Shannon Watts and Moms Demand Action do the same?
About Open Carry Texas: Our purpose is to 1) educate all Texans about their right to openly carry rifles and shotguns in a safe manner; 2) to condition Texans to feel safe around law-abiding citizens that choose to carry them; 3) encourage our elected officials to pass less restrictive open carry legislation for all firearms, especially pistols; and (4) foster a cooperative relationship with local law enforcement in the furtherance of these goals with an eye towards preventing negative encounters. Visit: www.opencarrytexas.org