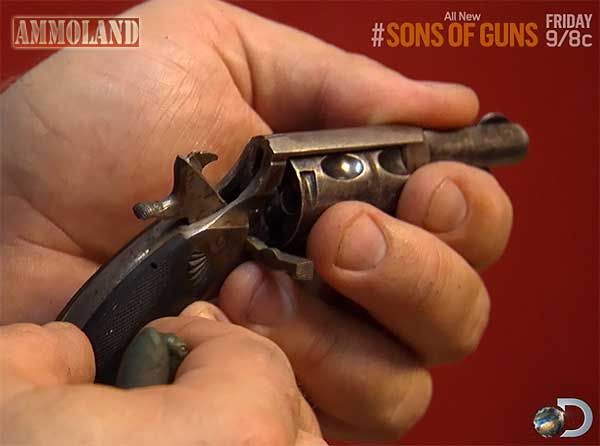 Silver Spring, MD –-(Ammoland.com)-  Joe puts it all on the line for Red Jacket's new home, but Will isn't sold on the building. A WWII British 75mm Scorpion Tank pulls into Red Jacket's parking lot and demands Will's attention.
They quickly discover that like true to its name, this Scorpion hides a potentially lethal sting. Kris and Stephanie get Charlie's help in putting the bite back in a turn-of-the-century concealed handgun known as a Velo-Dog.
Vince shows up to confront Joe about undermining their large AK47 deal, before the ink is dry.
About Discovery Channel 
Discovery Channel is dedicated to creating the highest quality non-fiction content that informs and entertains its consumers about the world in all its wonder, diversity and amazement. The network, which is distributed to 100.8 million U.S. homes, can be seen in 210 countries and territories, offering a signature mix of compelling, high-end production values and vivid cinematography across genres including, science and technology, exploration, adventure, history and in-depth, behind-the-scenes glimpses at the people, places and organizations that shape and share our world. For more information, please visit www.discovery.com.
About Discovery Communications 
Discovery Communications (Nasdaq: DISCA, DISCB, DISCK) is the world's #1 nonfiction media company reaching more than 1.8 billion cumulative subscribers in 209 countries and territories. Discovery is dedicated to satisfying curiosity through 149 worldwide television networks, led by Discovery Channel, TLC, Animal Planet, Science and Investigation Discovery, as well as U.S. joint venture networks OWN: Oprah Winfrey Network, The Hub and 3net, the first 24-hour 3D network. Discovery also is a leading provider of educational products and services to schools and owns and operates a diversified portfolio of digital media services, including Revision3. For more information, please visit www.discoverycommunications.com.