The Lights, Sights, Lasers 2014 LE/MIL training hosted by the Maricopa Sheriff's Office on May 29th & 30th 2014 offered specialized instruction featuring the use of tactical lights, firearms sighting systems and weapon-mounted lasers.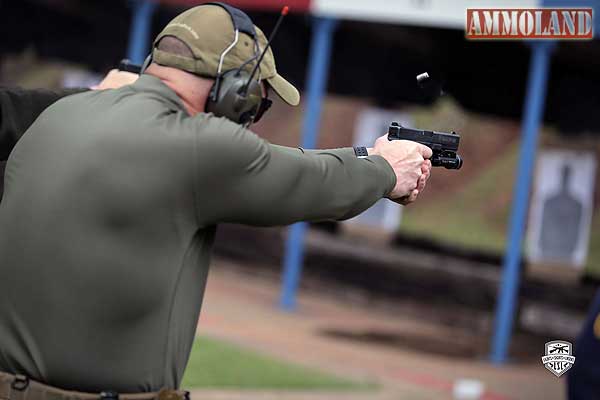 Fort Worth, TX – -(Ammoland.com)- Sixty Police Officers, Sheriff's Deputies and Federal Agents attended training at the MCSO Firearms Training Center near Phoenix, Arizona as part of the Lights, Sights, Lasers 2014 US Tour.
This no-cost accredited training workshop provided students with professional instruction from Wes Doss of Khyber Training and incorporated lights, sights and weapon-mounted lasers throughout the curriculum.
Attendees participated in classroom exercises that focused on a Train to Win survival mindset with instruction using blue guns upgraded with XS Sights' defensive sighting systems and Crimson Trace lasers. Attending students also experienced a hands-on demonstration with the Glass Assault Tool designed to easily breach vehicle glass. The second half of the workshop focused on intensive instruction and live-fire shooting drills dealing with unconventional shooting positions and low-light visibility.
On the range, Doss demonstrated products from Steyr Arms including the C-A1 9mm pistol and the AUG A3/SA USA semi-automatic patrol rifle. The C-A1 is an ideal pistol for concealed carry both on and off duty. Steyr's AUG, with its bullpup design, provides officers with a .223/5.56 caliber rifle that can adapt to the compact spaces of the patrol vehicle while meeting the challenges of both rural and urban agency needs.
"The functionality of the Steyr Arms AUG is perfect for the adverse environments of the Arizona desert. The AUG's design and functionality are superior for these harsh conditions where it functions reliably and performs flawlessly despite the sand and extreme heat," said Wes Doss, Lead Instructor and Founder of Khyber Interactive Associates.

"We are extremely pleased with the impact of our strategic training partnership with Wes Doss and Khyber Interactive Training, especially as part of the Lights, Sights, Lasers Training Workshop Tour," said Scott O'Brien, CEO of Steyr Arms. "Having the ability to introduce police officers and military personnel around the country to our unparalleled lines of pistols and rifles through the LSL Tour has been very beneficial, as they get to experience the advantages our platforms bring to the tactical environment. They can feel the ergonomics and reduced recoil of our pistols and how our AUG A3 can become an integral part of law enforcement operations due to its compact size, accuracy and absolute reliability."
The Steyr Arms C-A1 retails for $649.00. Steyr's AUG A3/SA USA rifle retails for $2,099.00. For more information on these products, visit https://steyrarms.com.
The LSL class concluded with a competitive "shoot-off" where students performed high-speed shooting drills against the clock to achieve the best time and score the most points for accuracy. The "Top Shot" winner received a generous prize package containing sponsor-donated products, including a $200 gift certificate from Blade-Tech Industries.
"Blade-Tech Industries is proud to be a sponsor of the Lights Sights and Laser's tour. Our modular tactical and concealed carry holster designs have long set the Industry standard for weapon mounted under gun light and laser bearing holsters. Blade-Tech manufactures holsters for Law Enforcement, Military and civilian carry applications and offers holsters for more firearm models than any other manufacture due to the fact they have the largest holster library in existence today. Carry Confident in a Blade-Tech Holster," said Tim Wegner, Founder of Blade-Tech Industries Inc.
The choice of many law-enforcement and military forces across the world, the Blade-Tech line of Duty Holsters offer a wide range of firearms fits and attachments. See the full line of Blade-Tech Duty Holsters at https://shop.blade-tech.com/duty-holsters-c-1_4.html.
Supporting sponsors of the Lights, Sights, Lasers 2014 US Tour have partnered to bring accredited training through Wes Doss of Khyber Interactive Associates and is intended for firearms instructors and tactical officers along with Law Enforcement and Military professionals assigned to specialty details/assignments. This one-day (8 hour) accredited workshop is being hosted by ten departments from Florida to Washington State and is free to the attending student; for additional Tour information visit https://www.LSLTour.com. Class sizes are limited and pre-registration is required. Follow the Tour on https://facebook.com/LightsSightsLasers.
Remaining LSL 2014 Tour Dates & Locations

September 15 & 16

: Richland Police Department – Richland, WA

October 16 & 17

: San Antonio Police Department – San Antonio, TX

October 20 & 21

: Marine Corps Air Station – Yuma, AZ
This program is funded and made possible by the Lights, Sights, Lasers 2014 Official Tour Sponsors: XS Sight Systems, Steyr Arms, Blade-Tech Industries, Crimson Trace, Rainier Arms, DRD Tactical, The Sharps Rifle Company, Gargoyles Performance Eyewear, and TerraLUX.