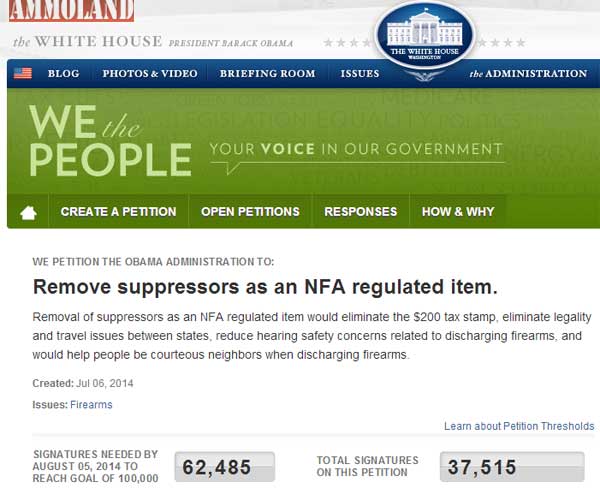 Covington VA –-(Ammoland.com)- Let's make Obama respond to this. It is indeed an idea whose time has come.
With noise complaints about people legally shooting in their backyards or legally hunting, suppressors would make a big difference and should be readily available, like any other firearm accouterments.
Sound suppressors are gaining popularity for a variety of reasons:
Noise reduction.
Hearing protection.
Suppressors act as muzzle brakes/flash hiders without hurting an adjacent shooter with muzzle blast and associated debris.
Home defense; that is, not blowing out your ear drums in confined spaces if firearm discharge is required for self-defense. Losing your hearing will significantly reduce your situational awareness ability.
However, unnecessary restrictive federal government regulations on sound suppressors deter purchasing and drives up retail costs. Additionally, in the state of Virginia, the BATFE wait time for a sound suppressor NFA Tax Stamp is 9 months.
Petition the Obama administration for the removal of sound suppressors as an NFA regulated item. Removal would also eliminate the $200 tax stamp, eliminate legality and travel issues between states, reduce hearing safety concerns related to discharging firearms, and would reduce sound suppressor retail costs by lifting restrictive government regulations.
Sign Petition here:
From: petitions.whitehouse.gov: http://tinyurl.com/ma79k86
Need 100,000 signatures forcing the White House to respond. Petition closes 05 Aug 2014.
Additionally, contact your Congressional House Representative, Senator.
About:
Virginia Citizens Defense League, Inc. (VCDL). VCDL is an all-volunteer, non-partisan grassroots organization dedicated to defending the human rights of all Virginians. The Right to Keep and Bear Arms is a fundamental human right. Visit: www.vcdl.org