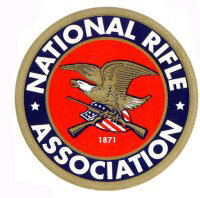 FAIRFAX, Va. –-(Ammoland.com)- The National Rifle Association proudly announces Smith & Wesson as the official sponsor of the NRA 3 Gun Experience (3GE) program.
Managed by the NRA Sports Department, 3GE events are fun, introductory activities to the popular 3 Gun shooting sport that attract new shooters to a range and create thrilling experiences for club members.
"We are excited to work with a renowned firearms manufacturer in Smith & Wesson," said Managing Director of NRA Recreational Programs & Ranges Elizabeth Bush.

"Together we are looking forward to introducing 3 Gun to men and women of all ages, increasing interest in the shooting sports and to secure our freedoms for future generations."
The NRA 3GE program is a fun, exhilarating, and physical activity created to expose new and intermediate shooters to 3 Gun competition. Events feature .22 or AirSoft rifles, pistols, and shotguns, creating a level playing field among participants. Although competitive, the primary focus of 3GE events is to educate shooters on the rules of the sport in a safe environment.
"NRA 3GE is an excellent way to get hands-on experience with the fastest growing action shooting sport in the world," said Smith & Wesson Director of Marketing Communications Paul Pluff.

"Smith & Wesson is proud to join the NRA in bringing this family friendly activity to ranges across the United States and foster the next generation of competitive shooters."
Smith & Wesson's sponsorship will provide participating ranges with 3GE gear, promotional materials, and certificates for participants and volunteers.
Visit https://nrasports.nra.org/3-gun-shooting-events.aspx for more information on the NRA Sports 3 Gun Experience program. Register for an event at https://nraday.nra.org.
About Smith & Wesson
Smith & Wesson Holding Corporation (NASDAQ Global Select: SWHC) is a U.S.-based leader in firearm manufacturing and design, delivering a broad portfolio of quality firearms, related products and training to the consumer, law enforcement, and military markets. The company's brands include Smith & Wesson®, M&P® and Thompson/Center Arms™.  Smith & Wesson facilities are located in Massachusetts and Maine. For more information on Smith & Wesson, call (800) 331-0852 or log on to www.smith-wesson.com
About the National Rifle Association
Established in 1871, the National Rifle Association is America's oldest civil rights and sportsmen's group. Five million members strong, NRA continues its mission to uphold Second Amendment rights and is the leader in firearm education and training for law-abiding gun owners, law enforcement and the military. Visit https://nra.org.